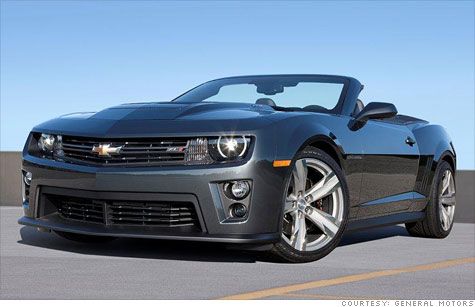 The Chevrolet Camaro ZL1 convertible will be the most powerful Chevy convertible GM has ever built.
NEW YORK (CNNMoney) -- General Motors will unveil the most powerful convertible Chevrolet has ever made at the Los Angeles Auto Show in November.
The 2013 Camaro ZL1 convertible will be powered by a 580 horsepower 6.2-liter V8 engine. The car's power output will exceed the current rating of its closest competitor in the marketplace, the Ford (F, Fortune 500) Shelby GT500 convertible, which has a 550 horsepower engine.
GM boasts it will also exceed that of luxury performance cars like the Aston Martin DB9 Volante, Mercedes-Benz SL63 AMG and the Porsche 911 Turbo S.
The Camaro was reintroduced for the 2010 model year after having been dropped from the Chevrolet line-up after the 2002 model year.
Up to now, it's been available with either a 323 horsepower V6 engine or, in the Camaro SS, a 426 horsepower 6.2 liter V8.
GM (GM, Fortune 500) announced in February it would produce an ultra-high-performance Camaro to be called the ZL1. Its horsepower was estimated at 550. In September, the automaker announced that official testing had revealed the engine's actual output to be considerably higher.
While a convertible version of that car has been expected, this is the first time GM has officially confirmed it.
The ZL1 hardtop is expected to go on sale early next year. The convertible version will go on sale later that year.
Pricing and fuel economy figures for the ZL1 convertible and hard-top are not yet available.
The Chevrolet Corvette, a two-seat sports car, is available with more powerful engines. The Corvette ZR1, for example, has a 638 horsepower engine but it is not available as a convertible.