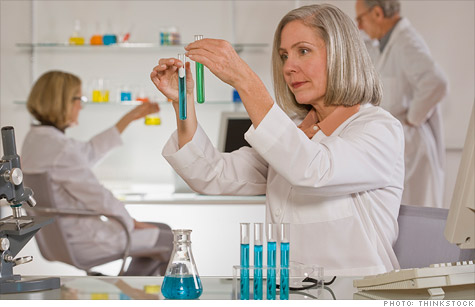 (MONEY Magazine) -- Craving a new career?
You're not alone -- workers are less satisfied with their jobs than they were five years ago, and one out of three is seriously considering walking out the door, according to human resources consultancy Mercer.
Even if you're itching for better pay or a more satisfying workday, however, you may feel a dramatic switch is risky. After all, unemployment has been stuck at 9% for more than two years; the average job seeker has spent 40 weeks out of work.
But the job scene isn't as bleak as the headlines indicate, at least not for everyone. For those with college degrees, unemployment is less than half the national average. An aging population is fueling demand for health care workers, and social media are driving growth in the tech sector. Nearly half of firms plan to add employees next year, according to a July survey of hiring managers and HR pros.
With those rays of hope in mind, MONEY teamed up with compensation website PayScale.com to identify the Best Jobs in America for five types of career changers, from the parent who wants a more flexible schedule to the seasoned worker looking for one last second act.
In good times or bad, reinventing yourself is no easy task. To start over in a new field, you may have to invest considerable time and money for training or a degree. You'll probably earn less at the outset. And to get hired in the first place, you'll have to convince a prospective boss that you're right for the job.
"It's up to you to demonstrate the value you can bring," says career coach Nancy Collamer. "You need to show how your skills fit."
So instead of creating a résumé that lists your former jobs chronologically, say, highlight your expertise. And lay the groundwork while you're still working, says Catherine Jewell, author of "New Résumé New Career." Take a class, join an association, or volunteer.
You'll gain contacts and experience, and you can test-drive the switch.
Below are tips for 5 types of career changers:
You've enjoyed a successful run, but now you're feeling stuck. Maybe you can see that you'll never earn much more money, or you work in a dying field that won't keep you employed much longer.
One way to reignite the fire is to switch into a robust industry, even if it means taking the time to retrain.
The health care industry, for example, is expected to add more than 3 million jobs this decade, according to the Bureau of Labor Statistics; more than 600,000 computer jobs will be created.
Six years ago, Tammy Robinson, now 35, figured out that her fitness-center director job was a dead end. So she quit to go back to school to become a physical therapist.
"It's in much greater demand," she says, "and there are a lot more career opportunities, whether it's with the geriatric population or pediatrics."
If you don't have a second career in mind, start with a self-assessment. To identify your key skills and interests, Kate Wendleton, president of the outplacement firm the Five O'Clock Club, suggests jotting down 20 personal or professional accomplishments and picking the seven most satisfying ones.
Those will demonstrate what you do best and what motivates you. Then see what high-growth fields might fit.
At one point or another you may have thought about ditching the corporate treadmill and pursuing work that's more meaningful.
In a wide range of careers, you can combine a passion with a paycheck, though that paycheck may be smaller than what you're used to. Of the 14.6 million jobs projected to be created by 2018, 6.9 million will be in the social sector, including in education, health care, nonprofits, and the government, according to a report by think tank Civic Ventures.
To make this switch, first identify what fires you up.
"Your biggest selling point is your enthusiasm for an organization's mission," says Amy Potthast, director of service and graduate education programs at Idealist.org, a volunteering and nonprofits job site.
Using Idealist's guide for career changers, you can match your interests and skills with jobs and organizations. By volunteering first, you can see how a group works and how you'd fit in. Go to volunteermatch.org, or check out taprootfoundation.org, a national organization that connects professionals to nonprofits in need of marketing, HR, or strategy help.
Not much free time?
Sparked.com hooks you up with one-off projects you can do online. To gauge where the hiring is, review job posts on Idealist.org and Bridgestar.org.
Keep in mind that making the world a better place isn't easy. MONEY's top 20 altruistic jobs score high in satisfaction and benefit to society, but many are high stress.
"There's a misperception that you can ease back," says Wayne Luke, head of executive search for nonprofit consultant Bridgespan Group. "But with fewer resources and slimmer staffs, you'll work just as hard or harder."
Far from ready to call it quits but tired of toiling in the same field? Do you have a dream job you couldn't afford to take when you had kids in college or 20 years left on your mortgage?
A growing portion of Americans 50 and older are still in the workforce, but at this stage of your career you may be ready to switch into a job with shorter hours, less stress, or more social purpose, even if it means backing off your peak pay.
"Many people need to work five or 10 years longer, but they want to do something other than make money for someone else," says Mary Bleiberg, executive director at ReServe, which places seasoned professionals in nonprofit, education, and public sector jobs (reserveinc.org). Another good site for pre-retirement jobs is retiredbrains.com.
MONEY's top jobs for folks over 50 do well in satisfaction measures like stress, flexibility, and social meaning. None require advanced degrees -- too high a hurdle late in your career -- though some will be hard to break into without related industry experience (such as marketing or tech).
The job skills you honed over a lifetime may transfer, but as an older job hunter you need to work harder to prove your skills are up to date. Digital know-how and social media experience, for example, are essential in the nonprofit world, says Bleiberg.
Some second-act jobs are low level, which might feel like a comedown. But the top of the corporate ladder often comes with big headaches. After decades in your office chair, you've earned a break for your last act.
You answered the call of duty and rose through the ranks. Now you're ready to put your considerable leadership and organization skills to work in civilian life -- a jarring shift for some.
"It was hard to go from having been responsible for an entire squadron to just the little task right in front of me," says Bob Deasy, a 57-year-old management consultant who retired in 2000 after more than two decades in the Air Force, Coast Guard, and Oregon Air National Guard.
To ease the transition, look into fields with a history of hiring vets -- the jobs on MONEY's list have a high number of ex-military personnel. Defense industries and law enforcement are obvious choices; your skills are most directly transferable, and a security clearance is coveted. Military pilots can keep flying. Professions where finely honed management and organizational skills are valued rise to the top for ex-military too.
One of the biggest adjustments to civilian culture may be the job hunt itself. You need to summarize your skills for a new audience, and create a résumé that bridges two cultures.
Check out Military.com's skills translator tool, which pulls up civilian jobs that match your experience. Adopt the language in those job descriptions. Lose the military jargon, says T. McCreary, president of Military.com, and do practice interviews with someone who has never served. For networking, join military groups on LinkedIn.
Tired of missing your daughter's soccer games or son's school field trips? As a working parent, you may yearn for a rewarding career that also gives you control over your schedule or the option to work from home. To find one, you have to know where to look.
"A lot of jobs with flexibility aren't posted, but more and more are out there," says Allison O'Kelly, a former CPA and founder of the staffing agency Mom Corps (momcorps.com). One recent survey found that 53% of U.S. companies offer flextime; nearly half allow for telecommuting, at least on occasion.
Our top 20 jobs for working parents all score high in those areas. Some fields lend themselves to this kind of freedom more than others.
"We make a lot of placements in accounting, marketing, education, and health care," says O'Kelly. If you manage a staff, however, you may have to put in too much face time to pull off this balancing act. Frequent days on the road can rule out certain fields.
Keep in mind that you'll find more opportunities in high-demand industries. Health care, source of many of the fastest-growing occupations over the next decade, also has the highest portion of flexible jobs, according to FlexJobs.com. Physical therapists and physician assistants, for example, can often work part-time.
Finally, before you launch a job hunt, figure out what flexibility you need: fewer hours, working from home, projects only. "That will determine where you should look," says FlexJobs.com CEO Sara Sutton Fell.