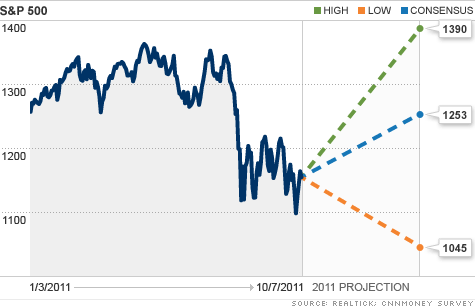 Click chart for more market data
NEW YORK (CNNMoney) -- After months of sticking to their positive outlook for the stock market, Wall Street experts are finally throwing in the towel.
Investment strategists and money managers expect the S&P 500 (SPX) to claw back almost about 5% before the ball drops in Times Square, but that still won't be enough to end the year in black.
According to an exclusive CNNMoney survey, nearly half of the respondents expect the index to finish at 1253, down a few points, or 0.4%, from the start of the 2011.
While that's not exactly a bear market, it's clear that the bullishness from earlier this year has faded. Even as recently as August, strategists were forecasting the S&P 500 to end 2011 up 7%, with only one survey participant thinking the S&P would finish in the red.
Fast forward six weeks: about half of the experts surveyed by CNNMoney are calling for the S&P 500 to post declines.
"We've gotten a dose of realism," said Brian Gendreau, senior investment strategist at Cetera Financial Group. "Earlier this year, I thought we were in a weak patch, but now, it looks like the United States is in for a period of multi-year slow growth, at best."
That means the chance of the usual fourth-quarter pick up, known as the Santa Claus rally, is slim, said Gendreau, whose year-end S&P 500 target sits below current levels, at 1150.
"Sure, there could be a rally, but there would have to be a catalyst to change investors' minds," he said. "We could see a turnaround if the super committee comes up with a plan to cut the deficit that Congress approves, and there's a resolution to Europe's debt crisis. But too many things would have to go right."
There is one glimmer of hope that could trigger solid gains, said Marc Pado, U.S. market strategist at Cantor Fitzgerald.
Earnings.
"At some point, investors have to look at earnings and valuations," he said.
During cycles of strong economic growth, stocks typically trade more than 20 times earnings estimates, and during the gloomiest periods, the multiple is around 13, said Pado.
Experts surveyed by CNNMoney forecast that earnings for S&P 500 companies are on track to rise 13% this year.
The average forecast calls for earnings per share to rise to $94, and with the S&P 500 at 1194 as of Monday's close, that means stocks are currently trading at nearly 13 times the year's earning estimates.
"The earnings multiple hasn't been below 13 since the 1980s, so this is crazy" said Pado, who's looking for the S&P 500 to finish the year up 7%, at around 1350. "We're not going out on a limb. We're just expecting that the fear and panic will subside, and rational minds will come back into the game."
Plus, thanks to the holiday shopping season, the fourth quarter is one of the strongest for Corporate America, especially for retail and technology companies, said Pado.
Last week, discount stores, such as Target (TGT, Fortune 500) and Kohl's (KSS, Fortune 500), reported healthy sales growth for September, as did luxury retailers like Nordstrom (JWN, Fortune 500) and Saks (SKS).