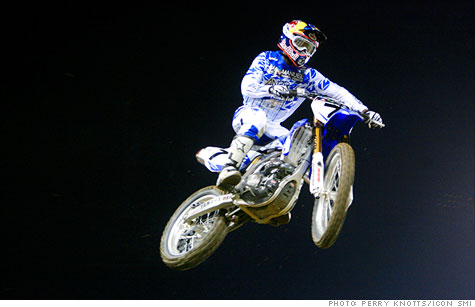 Stewart's daredevil style fuels success -- and some YouTubeworthy crashes.
FORTUNE -- James "Bubba" Stewart isn't the first athlete to make more in endorsements than he does in winnings. But few have taken it to this extreme: At 25, Stewart is the titan of motocross, where championship races bring purses of $12,000 or less -- and yet he takes in $10 million a year in endorsements.
But wait. As Stewart himself jokes, "What the f--- is motocross?" The answer, for the uninitiated, is motorcycle racing on twisting, undulating dirt courses. The result: lots of speed, plenty of jumps, and constant, bone-crunching danger. (Supercross is the flashier indoor equivalent.)
Until a couple of off years, Stewart owned motocross and supercross, capturing every championship in existence. He once went an entire season undefeated, winning all 24 races in which he competed. Perhaps most notable, he's a black superstar in an overwhelmingly white sport.
Fans love Stewart not just for his victories but for the life-risking way he races. "James approaches the sport differently from anyone else," says Jeremy Malott of Red Bull, one of Stewart's sponsors. "Other riders do the same jumps, same obstacles, but James has that X-factor. He's criticized a lot for his style of riding, and he crashes a lot, but James will win or die trying, literally." Stewart can't recall how many times he has wiped out. But when his shirt comes off, there's proof: Raised scars are visible all along his chest and shoulders.
Crashes have cost Stewart big over the past two years. In 2010 he collided with a fellow racer while landing a jump, careened into a barrier, and suffered a season-ending broken wrist. In 2011, Stewart was within reach of the supercross championship when another crackup left him in the dirt.
Those YouTube-worthy misadventures -- and his mediagenic likability, disarming candor, and easy smile -- help explain why Stewart's endorsements continue to roll in even as the victories have slowed. He has made himself a one-name brand in the realm of extreme sports: Bubba's World, a Fuel TV reality show, follows his daily life.
Stewart has drawn comparisons to Tiger Woods, and certainly there are similarities in their early biographies. Like Woods, Stewart started young in a white-dominated sport: He was racing competitively by age 4 and a pro at 16. Also like Woods, Stewart was closely guided by his dad, James Stewart Sr. (who goes by "Big James"). Bubba got his first sponsor, Oakley, when he was 7 years old and by 2009 had deals with Red Bull, Answer Racing, Yamaha, and the biggest brand in sports -- Nike (NKE, Fortune 500).
Stewart is ultracompetitive but laid-back in person. He says he spends most nights relaxing with his fiancée at his home in Windermere, Fla. -- just across the lake from Woods, as it happens -- playing pool or watching movies. The only blemish on Stewart's record came this spring, when he was arrested in Orlando after an ill-advised prank: Stewart slapped a flashing light on the dash of his Toyota Tundra and tried to pull a vehicle over for speeding. The car, it turned out, was occupied by two state troopers and a sheriff's deputy, and Stewart was arrested for impersonating an officer, a charge likely to result in probation. "It wasn't like I was out with strippers, or doing coke, or driving drunk, or shooting somebody," he says. "It was stupid and it sucked. But if it got some people to see me on the news and then take an interest in the sport and fall in love with racing, then it was a good thing."
The incident doesn't seem to have hurt his sponsor relationships. The latest version of a 10-million-selling motocross videogame from THQ not only features Stewart on the cover but also models an entire level on his private course in Haines City, Fla. An ad boasts, "THQ worked closely with James 'Bubba' Stewart to digitally capture every element of his personal compound, where the fastest man on the planet rips it up on his home turf."
Stewart and his dad have even grander ambitions. "He could reach people of different identities, just like Jordan or Kobe, Tiger, or Ken Griffey," says Big James. Still, even Bubba realizes that's a distant aspiration, given the obscurity of motocross. For now, his goal is 73 supercross wins (he has 42 to date), which would make him the all-time leader. To ensure he hits that number, he'll soon decide whether to re-sign with Yamaha for 2012 or switch to Suzuki's team.
Stewart is also mulling a shift to auto racing. In 2007 one of his rivals, Ricky Carmichael, moved to NASCAR but remains winless there. That hasn't deterred Stewart. "I do have plans to do it," he says, "but it has to be the right time." The sponsorships are the draw: "They think, 'Oh, a young black kid, coming in, breaking barriers in motocross. Let's see if he can do it here too.' They don't know I might not be able to drive a car for s---."
Would a second-rate NASCAR driver really remain a $10-million-a-year endorsement machine? The world won't find out for a while, since Stewart expects to stick with motorcycles for at least a few more years. "Every sport needs that marquee guy," he says, and he's hungry to reclaim that status, adding, "I do have to prove myself and perform." Or at least deliver a highlight-reel crash or two.
This article is from the October 17, 2011 issue of Fortune.
--Editor's note: An earlier version of this story incorrectly identified Bubba's World as a Fuse TV reality show. The program airs on Fuel TV.