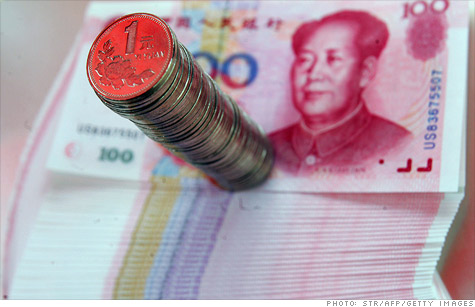 Senate wants to slap duties on Chinese imports in response to China's undervalued currency.
WASHINGTON (CNNMoney) -- The Senate is expected to pass a bill on Tuesday that targets China's undervalued currency -- long accused of hampering the U.S. economy by spurring global trade imbalances and economic hardship for U.S. manufacturers.
The Senate bill would slap new duties on imports from nations whose currency is undervalued -- a provision aimed squarely at China.
"If we continue to lose wealth and jobs to China, because they manipulate trade laws and intellectual property laws to their own advantage unfairly ... we may never recover as a country," said Sen. Charles Schumer, a New York Democrat who has been pushing for the move since 2006.
But the Republican-controlled House won't take up the bill, Speaker John Boehner has said, making Senate passage more of a political exercise than an attempt at legislating.
"You could start a trade war, and a trade war given the economic uncertainty here and all around the world, it's just very dangerous," Boehner said last Thursday.
And President Obama also has yet to fully embrace the measure, warning on Thursday he didn't want to pass laws that are "symbolic" that could be slapped down by the World Trade Organization.
"Whatever tools we put in place, let's make sure that they can actually work, they're consistent with our international treaties and obligations," Obama said in a press conference on Thursday.
For years, U.S. officials have been pressuring China to allow its renminbi -- or yuan -- to appreciate more rapidly. Between 2008 and 2010, China had pegged the yuan to the dollar, keeping its value artificially low and Chinese exports comparatively cheap.
Besides hiking tariffs on Chinese goods, the bill also takes aim at the administration, which already has some ability to point out nations that purposefully manipulate their currency but has avoided doing so.
The bill would:
-- Force the administration to officially red-flag nations whose currencies are undervalued for long periods with the term "fundamentally misaligned currency."
-- Make it tougher for the Commerce Department to ignore calls to investigate accusations of undervalued currencies.
-- Force the administration to give Congress a list of nations with "misaligned" currencies.
And if a nation is accused of having an undervalued currency and makes no effort to rebalance the currency for three months or more, that's when the tariffs kick in.
The bill would also:
-- Prevent the federal government from buying goods and services from that nation.
-- Prevent the U.S. trade promotion agency, the Overseas Private Investment Corp., from investing in that nation.
Chinese leaders decried the bill on Sunday. The official news agency Xinhua accused U.S. leaders of politicizing the yuan, and warned that trade conflict "always leads to bilateral damage" in an editorial on the agency's website.
"To put it simply, current anti-yuan moves in the U.S. Senate are more like a publicity attempt to attract voters and distract attention from the real problems facing the U.S. economy," the editorial said.
Most big business groups, from the U.S. Chamber of Commerce to the Club for Growth, oppose the bill. Union groups support it.
The Obama administration has taken the stance that the best course of action is diplomacy and not knee-jerk penalties, pointing out China's moves to allow the yuan to appreciate slightly. White House officials said Monday they're reviewing the Senate bill.
Despite the bill's overall grim prospects, Democrats frustrated with political stalemate are pushing forward with the measure, which has picked up some Republican support in the Senate.
The Senate bill resembles a House bill passed when Democrats controlled that chamber last year.