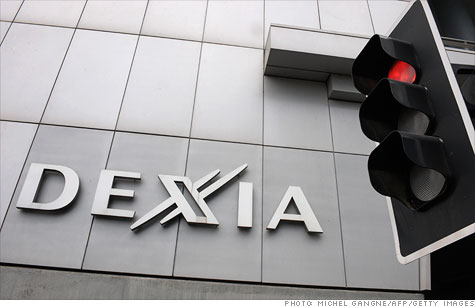 Dexia is the first European bank to get bailed out.
NEW YORK (CNNMoney) -- Franco-Belgian bank Dexia said Monday that it will receive €90 billion from France, Belgium and Luxembourg, making it the first bank to get bailed out as a result of the European debt crisis.
The board of directors of Dexia said the bailout will allow the bank to cut its short-term funding requirement by more than €14 billion, and help it trim back its portfolio of non-strategic assets by €18 billion.
As part of the deal, the Belgian government will purchase Dexia subsidiary Dexia Bank Belgium for € 4 billion.
The deal will help to prop up Dexia's weakened ability to guarantee bonds.
"Dexia passed the stress test earlier this summer with flying colors, yet here we are now, three months later, and it needs a bailout," said Michael Hewson, analyst at CMC Markets in London. "I think that begs the question as to whether Dexia is a special case or if it's one in a long line of other bailouts."
Dexia primarily guarantees European bonds, though it also guarantees U.S. bonds.
German Chancellor Angela Merkel and French President Nicholas Sarkozy said over the weekend that they had a plan to solve the European financial crisis, which includes bank recapitalizaton.
European stocks appreciated the bailout. The FTSE 100 (UKX) in London and the CAC 40 (CAC40) in Paris both rose about 2%, while the DAX (DAX) in Frankfurt was up 3%.
French banks rose on the news. Credit Agricole and BNP Paribas were up more than 4% and Societe Generale rose more than 1% at the close of trading.
Wall Street felt the impact and U.S. banks got a lift in Monday trading. Citibank (C, Fortune 500) surged 7% while Bank of America (BAC, Fortune 500), JPMorgan Chase (JPM, Fortune 500) and Wells Fargo (WFC, Fortune 500) rose 5%.
CNNMoney's Hibah Yousuf and CNN's Katy Byron contributed to this story.