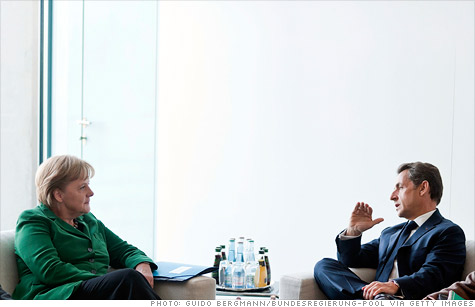 German Chancellor Angela Merkel and French President Nicolas Sarkozy discuss a 'comprehensive package' of measures to stabilize the euro currency.
NEW YORK (CNNMoney) -- The leaders of Europe's two largest economies have said they've agreed on a "comprehensive package" of measures to address the eurozone sovereign debt and banking crisis, but they did not give any details.
After meeting in Berlin, German Chancellor Angela Merkel and French President Nicolas Sarkozy said Sunday that they have settled on a "durable" solution for the sovereign debt problems in Greece.
Analysts said the mention of a "durable" solution for Greece suggests Merkel and Sarkozy are willing to accept a deeper restructuring of the nation's unsustainable debt load.
EU leaders have repeatedly said that Greece will meet its obligations and avoid a default. But many economists say the private sector will have to write down the value of Greek bonds by up to 50% in order for the nation to finally get out of debt.
Merkel and Sarkozy also pledged to do "all that is necessary" to ensure that European banks have sufficient capital.
Sarkozy said further information on the plan will be disclosed later this month, adding that "now is not the moment to go into the details."
Analysts had been expecting an announcement on bank recapitalization at the next European Council summit. The meeting, which had been scheduled for Oct. 17-18, was pushed back on Monday to Oct. 23.
The rhetoric, while familiar, boosted morale across global financial markets. In Europe, shares in London, (UKX) Frankfurt (DAX) and Paris (CAC40) gained between 1.8% and 3%. U.S. stocks were also sharply higher.
The rallies came despite news that troubled lender Dexia Group has been bailed out by the governments of France, Belgium and Luxembourg. Dexia, which is largely dependent on wholesale funding markets for financing, was the first bank to succumb to the recent pullback in bank-to-bank lending.
Merkel and Sarkozy have been leading the European Union's slow-motion charge to rescue the euro from a sovereign debt crisis that has festered for 18 months and now threatens to infect the European banking system.
The latest talk from Paris and Berlin has focused on the need to strengthen banks that are exposed to potential losses on government bonds issued by Greece, Italy and other so-called peripheral euro area nations.
Despite the positive response in financial markets on Monday, analysts said recapitalizing European banks, while important, is not enough to fully resolve the underlying government financing problems.
"The recapitalization of Europe's banks is a necessary, but not sufficient step to return confidence to the market," said John Peace, a research analyst at Nomura Securities. "If steps are not taken to reassure the market about the solvency of Italy, we have really only treated the symptoms and not the disease of the current crisis."
In addition, analysts said implementing a "coordinated" rescue of the European banking system would be technically complex.
Mujtaba Rahman, an analyst at Eurasia Group, said a government rescue would likely involve some combination of direct injections by individual European states, along with recapitalization and government bond purchases by the European Financial Stability Fund.
But all three elements of such a strategy face challenges, he noted in a recent research report.
Rahman said that injecting money directly into banks could make the situation worse by increasing the liabilities for those European governments making the investments or contributing to the EFSF bailout fund.
In addition, the amount of money in the bailout fund is widely believed to be insufficient, and talks about how to boost its firepower have been inconclusive. The European Central Bank could also do more to facilitate interbank lending, he added.
Merkel and Sarkozy did not announce any plans to enhance the powers of the EFSF. The leaders have reportedly disagreed on how to deploy the €440 billion bailout fund once a proposed overhaul is made official later this month.
France is said to be worried that using government money to rescue troubled banks could tarnish the nation's top-tier credit rating. Banks in France are among the most exposed to distressed sovereign debt.
On Sunday, Sarkozy said France and Germany are in complete agreement on the undisclosed rescue measures.
Holger Schmieding, chief economist at Berenberg Bank in London, said preparing for an orderly default by Greece and recapitalizing European banks could "make a lot of political and economic sense."
"The measures that are being planned now may well be necessary," he said. "However, on their own, these two measures could make the actual debt crisis worse."
Schmieding said allowing Greece to default would send a signal to investors that Italian bonds may also be subject to major write downs.
That would drive up Italy's borrowing costs and raise speculation about the nation falling victim to a fate similar to Greece, he added.
"To rein in the grave risks which these measures may entail, they would have to come with an iron-clad guarantee for Italy that could impress hyper-nervous investors enough to buy and hold Italian sovereign debt again," said Schmieding.