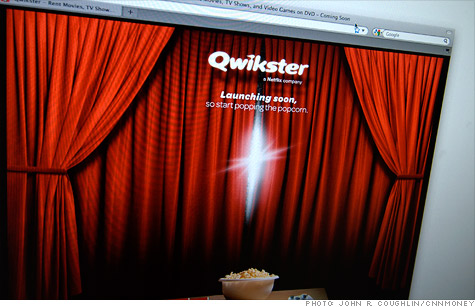 Netflix kills plan to separate Qwikster, streaming services
NEW YORK (CNNMoney) -- Netflix is going back to the future.
The digital video delivery company said Monday that it is reversing a plan announced only weeks ago to spin off its DVD-by-mail business from its streaming video service.
CEO Reed Hastings announced on Sept. 18 that the company's movies-by-mail service would be rebranded as Qwikster and would add video games to its catalog, while the Netflix brand would be dedicated to streaming video.
Now Netflix is abandoning that plan.
"Instead, U.S. members will continue to use one website, one account and one password for their movie and TV watching enjoyment under the Netflix brand," the company said in a statement.
Netflix issued its second mea culpa in as many months, acknowledging the consumer outrage about its Qwikster announcement.
"Consumers value the simplicity Netflix has always offered and we respect that," Netflix co-founder and CEO Reed Hastings said. "There is a difference between moving quickly -- which Netflix has done very well for years -- and moving too fast, which is what we did in this case."
The company had already lost an estimated 1 million customers, or about 4% of its subscribers, after Netflix split its DVD and streaming businesses in July, effectively raising prices on subscribers of both by 60%.
Analysts said the company's second 180-degree turn indicates that even more customers were saying, "So long, farewell, auf Wiedersehen, adieu" to the business.
"Basically, these guys are desperate, and this confirms it," said Tony Wible, analyst at Janney Capital Markets. "While this move doesn't solve the company's long-term issues, in the interim, at least it can try to accelerate some positive catalysts for customers and its stock price."
Shares of Netflix (NFLX) rose by as much as 10% following the news, before turning negative in the afternoon.
For investors, the problem with spinning off the DVD-by-mail service is that it accounts for between one-third and one-half of the company's overall sales, depending on which analyst you ask. (Netflix doesn't break out those statistics in its earnings releases).
It also would have eroded a competitive advantage.
"Netflix has a major leg up on its competition, because it offers library titles via streaming and any title with a two-day delay through the mail," said Brett Harriss, analyst at Gabelli & Co. "By separating them, Netflix would have allowed Apple (AAPL, Fortune 500) and Blockbuster to compete with each portion of its business separately."
For consumers, the Qwikster spin-off would have been a royal pain: Customers would have needed to maintain two separate accounts on two different websites.
Netflix, a company that could do no wrong up until this summer, seems to have heard those customers loud and clear after its second blunder.
"Netflix is the latest poster child for what happens when you aggravate consumers," said Tobe Berkovitz, professor of advertising at Boston University. "When you have a brand that consumers have a good relationship with -- and Netflix was certainly one of those -- consumers take a ton of flesh if you betray them."