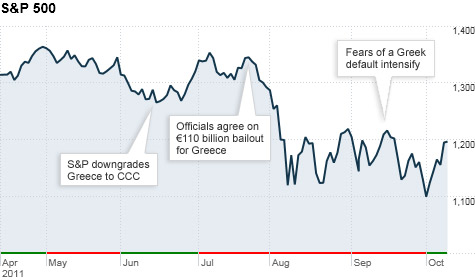 Click chart for more market data.
NEW YORK (CNNMoney) -- It's been on and off the back burner for a year and a half, but the European debt crisis is finally nearing a boiling point.
In fact, more than 80% of the experts surveyed by CNNMoney agree that the money problems across the Atlantic are the most challenging hurdle for stocks, which have been struggling to claw back from the lows they hit earlier this month.
"Europe's debt crisis is the No. 1 risk facing the market right now," said Fred Dickson, chief market strategist at D.A. Davidson & Co. "Each step made toward solving the sovereign debt or bank reserve issues seem to raise new question, and the news suddenly changes from being very negative to very positive and vice versa."
Investors first became troubled by the eurozone's fiscal woes in early 2010, as worries about Greece defaulting on its debt spread to the other so-called PIIGS, including Portugal, Ireland, Italy, and Spain.
Policymakers were able to ease those concerns with bandages of bailouts and austerity measures, and events like the Arab Spring helped distract investors, at least temporarily. But the crisis continued to escalate and has gripped investors' attention for months.
Lately, every time any incremental progress has been made toward solving Greece's debt problems or the spreading European crisis, investors react with a surge of optimism and stocks rally.
But when political conflict or rating downgrades take over the headlines, it's like splashing cold water on that optimism and stocks tumble.
Amid all the mood swinging, the S&P 500 has mostly been moving choppily sideways between 1100 and 1200.
"If we see some sort of plan or deal that settles Europe's issues, that will relieve a lot of the uncertainty that markets hate [and] stocks will be able to break out of the range to the upside," said Ryan Detrick, senior technical strategist at Schaeffer's Investment Research.
But that may still be a ways off. Late Tuesday, Slovakian lawmakers rejected a plan to overahul the European stability fund. Slovakia was the last of the 17 eurozone countries to vote on changes to the fund, and the only country to reject those changes.
Even a Greek default, which is now widely expected, would help ease tensions, he added.
"With all the negative priced into the market, a default by Greece wouldn't be the end of the world," Detrick said. "In fact, it could be a potential positive to get some uncertainty out of the way."
Investors would breathe an even bigger sigh of relief if European leaders announce a plan to recapitalize the banks that have exposure to Greece and other debt-laden countries.
"What we want to see is essentially what would be a TARP fund to finance and isolate the bad assets at banks, like Belgium is doing with Dexia," said D.A. Davidson's Dickson.
Last weekend, the leaders of Germany and France, Europe's two largest economies, said they've agreed on a "comprehensive package" of measures to address the eurozone sovereign debt and banking crisis, but were tight-lipped about the details. The plan is expected to unveil at the G20 meeting in Cannes Nov. 3 and 4.
Meanwhile, European Commission president Jose Manuel Barroso is expected to announce his own recapitalizatoin plan Wednesday afternoon.
As long as the risks of a contagion are contained, Europe's debt crisis should move out of the limelight, allowing investors to focus on the U.S. economy and earnings. But that doesn't mean it won't creep back in later.
"We'll be talking about Europe for the next five years probably," said Dickson. "For the situation to really abate, there need to be signs of better economic growth in southern Europe -- Greece, Spain, Italy and Portugal."