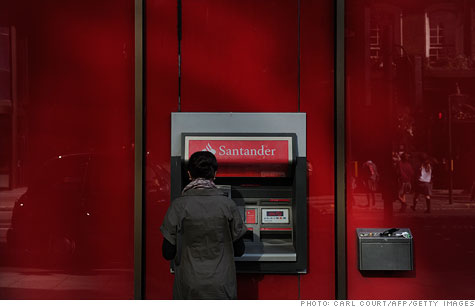 Standard & Poor's announced negative rating actions against 15 Spanish banks, including Banco Santander S.A.
NEW YORK (CNNMoney) -- In the latest blow to the European banking sector, Standard & Poor's on Tuesday announced negative rating actions on 15 Spanish banks.
The rating agency also had some harsh words for the nationwide economy of Spain, one of several European nations -- including Greece -- that have been hit hard by the debt crisis.
"In our view, Spain's economy faces dimming growth prospects in the near term, real estate market activity remains depressed, and turbulence in the capital markets has heightened," S&P said in its report.
S&P said it lowered by one notch the long-term "counterparty" credit ratings on 10 financial institutions, including the prominent banks Banco Santander S.A. and Banco Bilbao Vizcaya Argentaria S.A.
The rating agency announced actions on other banks, including revising the outlook to negative from stable on four banks, placing one bank on CreditWatch negative, and lowering credit profile assessments on two banks.
S&P said its outlooks on all Spanish financial institutions are negative, "reflecting the possibility that we could downgrade some banks further if the economy deteriorates more than we anticipate."
The rating agencies have cast a harsh eye on other troubled European nations as well. In one of the most recent actions, Moody's Investors Service downgraded Italy on Oct. 4.
In one of S&P's most dramatic rating actions this year, the agency downgraded the United States on Aug. 5, stripping the world's largest economy of its prized AAA-status.