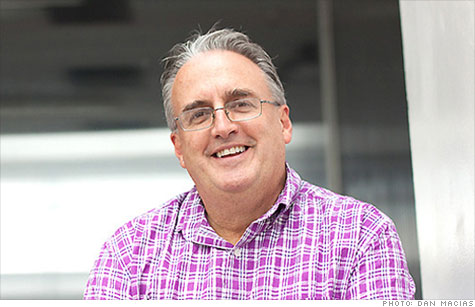 Jeff Fisher ditched Chase and now banks at a credit union.
NEW YORK (CNNMoney) -- They're mad as hell, and they're not gonna take it anymore.
Take what? Bank fees.
Recent fee hikes from some of the nation's biggest banks have attracted the wrath of customers, some of whom are taking their business elsewhere.
Prime targets: Banks of America, which slapped a $5 monthly fee on debit cards, and Citigroup (C, Fortune 500), which will start charging $20 a month for some checking customers who don't maintain a $15,000 balance on their combined accounts.
"I dropped Bank of America like a hot potato," said Tim O'Brien a partner in a Seattle-based television advertising agency. "I felt like I was getting nickel and dimed."
O'Brien took his business to Key Bank (KEY, Fortune 500) -- a mid-sized lender based in Cleveland that has $90 billion in assets and just over 1,000 locations.
The best part? No fees on his new account.
"They rolled out the red carpet for us," O'Brien said. "The difference really is amazing."
There is no industrywide data on how many customers are leaving their banks because of new fees. And experts note that it takes a lot for most people to make a move. "It's a big hassle to change banks," said Bert Ely, a banking consultant.
Still, new fees are proving the final straw for some customers.
Ely said the new fees at Bank of America in particular seem to have hit a nerve, and that the bank is likely to lose customers as a result.
"People are always opening and closing accounts for a variety of reasons. You have kind of a normal churn," Ely said. "The challenge is measuring the additional turnover due to a policy change."
It's a trend that has been going on for some time, as more and more free accounts disappear.
For Jeff Fisher, a graphic designer and author from Oregon, a new $15 a month fee on his Chase (JPM, Fortune 500) business account prompted a switch to a credit union earlier this year.
"That really was the last straw," Fisher said of the fee. "That's when I lost it and decided to switch."
Changing banks was going to mean a loss of convenience for Fisher. The local Chase branch was just a couple of blocks from his home. So where to go?
Fisher took his case to the Internet, tweeting about his dissatisfaction. To his surprise, he received two unsolicited offers -- one from a credit union, and one from a smaller bank.
The message? We want your business. One even asked him to come in for a cup of coffee.
"I didn't get the coffee, but I did go talk to both banks," Fisher said. After evaluating his options, he moved his business account to OnPoint Credit Union in February.
"I really appreciate the way I was treated as a small business person," Fisher said. "They treated me like I was one of the biggest businesses in the city coming in."
Banks with lower fees seem to be in the best position to capitalize on the new charges.
Navy Federal, a credit union with about 3 million members, experienced a surge in new accounts after Bank of America (BAC, Fortune 500) announced its new fee. Instead of the usual 2,600, Navy Federal opened a record 3,200 new checking accounts in one weekend, according to spokeswoman Jennifer Sadler.
Why have banks been hiking fees in recent days?
Banks are dealing with a new cap on the fees they can charge retailers when customers swipe their debit cards.
While banks used to charge an average fee of 44 cents, now the maximum is 21 cents. They are looking for a way to make up the difference. Smaller banks -- those with less than $10 billion in assets -- are exempt from the new regulation.
No matter the reason -- there isn't a lot of sympathy for banks.
George Lettis, a Citi customer in Maryland, was about to be hit by the bank's new $20 fee -- unless he raised his balance by a substantial amount.
"It just wasn't financially possible to keep that balance in there," Lettis said.
Now he's moving his checking account to Pentagon Federal Credit Union.
"Unless you have a big balance, the big banks aren't working for everyday people anymore," Lettis said.
At a local level, banks appear resigned to losing a few customers.
"We went to our local branch in Seattle," said O'Brien, the Bank of America customer. "The manager didn't even try to keep our business."