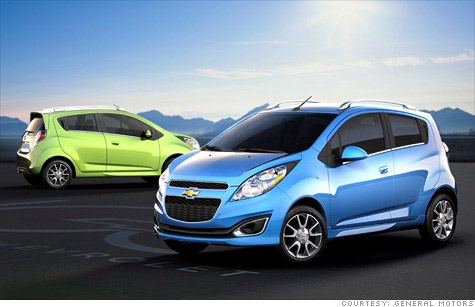 The gasoline version of the Chevrolet Spark minicar, shown here, will go on sale in the U.S. next year. An all-electric plug-in version will go on sale in select markets in 2013.
NEW YORK (CNNMoney) -- General Motors, maker of the Chevy Volt plug-in hybrid, will sell a small totally electric car beginning in 2013, the automaker announced Wednesday.
The Chevy Spark EV will be sold in limited markets in the U.S. and other countries, GM said.
Smaller than a typical subcompact, the Spark is a so-called minicar. It's a couple of inches shorter than a Mini Cooper.
A gasoline-powered version of the Spark is expected to go on sale here early next year.
In the past, GM (GM, Fortune 500) executives have expressed doubts about the market for purely electric cars because of their limited driving range. The automaker attempted to market a two-seat all-electric car, the EV1, in some states in the 1990s. GM stopped making the car when laws requiring the sale of electric cars ended in 2003.
GM began selling the Chevrolet Volt, a plug-in car that can drive about 35 miles on a fully charged battery before turning on a gasoline engine to generate electricity for further driving, at the end of 2010.
While GM had expected to sell 10,000 Volts by the end of 2011, only about 4,000 have been sold so far. Still, GM spokesman Rob Peterson said sales will pick up now that the Volt is being sold nationwide. Until recently it was only available in a few states.
Nissan has sold over 7,000 of its all-electric car, the Leaf, in about the same period.
When it goes on sale, the Spark EV will join an increasingly crowded market of plug-in cars as almost every major automaker plans to offer at least one by the end of 2012.
GM has been testing an electric version of the Chevrolet Cruze -- a larger car similar to the Chevrolet Volt -- in several countries around the world. Feedback from those tests in China, Korea and India has been taken into account in creating the Spark EV.
"The Spark EV offers customers living in urban areas who have predictable driving patterns or short commutes an all-electric option," said Jim Federico, global vehicle chief engineer for electric vehicles at Chevrolet.
GM has not yet announced details such as the car's driving range, price or in what markets it might be sold.