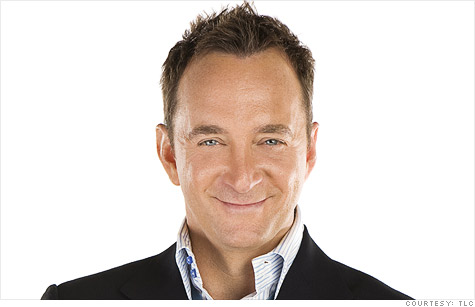 Clinton Kelly, who shot to fame on "What Not to Wear," is opening a chain of retail stores in November called Perfect Fit by Clinton Kelly.
NEW YORK (CNNMoney) -- Clinton Kelly hopes to see socks with sandals, elastic waist pants, tracksuits, and other fashion atrocities banished within his lifetime. By exposing heinous fashion crimes, and advising people on how to dress their best, Kelly has transformed his name and impeccable style into a lucrative brand.
The former fashion magazine editor became a household name as co-host of the popular TLC television show, "What Not to Wear." Later, he became an author, penning three books on fashion -- his latest being "Oh No She Didn't," which came out last year.
Kelly also has a line of women's casual wear sold through the shopping network, QVC, and recently launched Clinton Kelly's StyleRx, an app that helps women pick out clothes for their body type.
Right now, he is one of the hosts of "The Chew," ABC's new television show on food.
And he doesn't stop there. In November, he is launching a chain of retail stores called Perfect Fit by Clinton Kelly. The stores, which will open in Minneapolis and Chicago, will offer tailoring, alterations, consultations, and fashion advice.
So how do you build a successful brand? Kelly shares his best ideas.
Remember your personal style reflects your brand: In order to be successful in business, you need to keep in mind that you represent your brand 24/7, and what you wear impacts the message you're sending to potential investors or clients.
A lot of entrepreneurs believe their work speaks for itself. And that's true once you've sealed the deal. But until then, you need to ensure your wardrobe is sending out the right message and telling the world you're successful, capable and confident.
Don't engage in social media spam: As a consumer, I get tired of seeing social media used for shameless self-promotions. So rather than inundating my Facebook and Twitter followers with ads, I answer their questions and discuss the latest trends in fashion and style. When I do mention a product, it's something I feel very strongly about like the super flattering jacket I recently debuted on QVC.
Choose your business alliances wisely: My brand is about helping people become better versions of themselves by dressing in good taste and understanding their individual body type. When Macy's approached me to be the national spokesperson for their women's department, and to offer style seminars at stores across the country, I knew it was a good fit. Macy's shares my belief that you don't have to be a size 4 to find a style that works for you.
Keep a fresh perspective: I've filmed over 300 episodes of "What Not to Wear," where Stacy London and I help women make over their wardrobes. While this is my ninth season on the air, it's usually our guests' first time on television.
As a result, I remind myself that each guest is a real person with a full set of emotions. And it's important for me to honor those emotions. It can be easy for entrepreneurs to feel as if their career is just a job, and forget how their decisions and actions affect their customers.
Set yourself apart from the competition: Some designers make clothing for size 14-plus women from templates originally designed for size 4 models. I design clothes for my QVC line on size 12 models. If I can make a size 12 feel thinner and look better in her clothes, it's easy for me to grade up or down a size or two.
Good clothing begins with the right fit and you can't expect clothes to always fit perfectly off the rack. Anybody who has great style typically also has a great tailor.