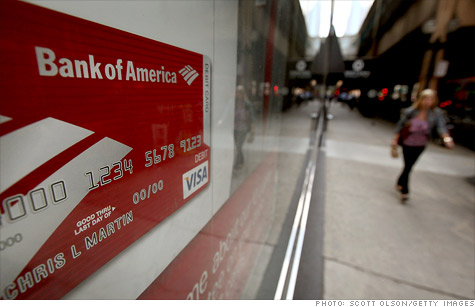 Washington (CNN) -- A member of Congress and other House Democrats are asking the U.S. Attorney General to investigate whether American banks have illegally gotten together to raise fees charged to consumers for banking services.
Rep. Peter Welch of Vermont, the Democratic Chief Deputy Whip in the House of Representatives, told reporters Thursday he has sent a letter to Attorney General Eric Holder urging him to explore whether banks have engaged in what's called "price signaling," a tacit agreement not to compete on matters such as the strategy and implementation of what consumers must pay for services.
Welch's letter was co-signed by Reps. John Conyers (D-Mich.), Raul Grijalva (D-Ariz.), Keith Ellison (D-Minn.) and Michael Honda (D-Calif.).
Ellison said Bank of America's (BAC, Fortune 500) recent announcement to raise the monthly fee for using a debit card to $5 "may be a signal to others that, 'hey, lift up your prices and we'll all just do it,' but I think that's why we need the AG to inspect and investigate to find out whether the consumer's interest is being served."
At a news conference on Capitol Hill, Welch declined to illustrate how to distinguish between the normal business practice of charging what the market will bear and illegal collusion, which he says could be a violation of federal antitrust laws.
But Welch did say big banks have reacted poorly to lawmakers' efforts to control bank fees, and he suggested the industry is trying to make up for lost profits by coordinating price strategies in other areas.
He said "we have very serious questions as to whether or not there has been an antitrust violation, and we call upon the Attorney General to do a full and compete investigation to get to the bottom of this."
Welch said the inquiry should center on the swipe-fee practices of Bank of America, JPMorgan Chase (JPM, Fortune 500), Citigroup (C, Fortune 500) and Wells Fargo (WFC, Fortune 500), which together control a substantial share of the consumer banking market. The banks charge retailers a swipe fee every time a customer slides, or "swipes," a debit card through the store's card reader when making a purchase.
Welch said Americans pay the highest swipe fees in the world and that could represent "the big bank model that is all too much now a fee-driven shakedown of consumers." He stood alongside a chart that represented the dwindling number of banks left today, thanks to mergers and consolidations over the past 20 years.
"There are enormous questions that are being raised as to whether or not they're crossing a line into anticompetitive practices," Welch said, "and the Attorney General has the responsibility to be protecting us."
Ellison told reporters an investigation, regardless of its outcome, could discourage banks from trying to take advantage of customers. Comparing the call for a probe to a cop walking a street patrol, Ellison said "I think the AG, investigating and making sure the industry knows the Attorney General is watching the market carefully, will encourage better behavior"
Later Thursday, another member of Congress, North Carolina Democrat Brad Miller, met with Molly Katchpole, who has organized a petition drive against Bank of America aimed at trying to persuade the bank to cancel its new $5 debit card fee. Miller is considering legislation to make it easier for people to switch banks.
Miller told CNN after the meeting that more and more people have reason to leave one bank and find a better deal for their banking elsewhere, including as a protest against Bank of America's new charge.
"But the banks have deliberately make it sticky to leave," he explained, because of sometimes burdensome procedures to discontinue direct-deposit paychecks and automated bill paying.
That's where Miller's legislation comes in. Among the provisions, it would address whether banks can require a departing customer to visit a branch, instead of allowing them to close their accounts online. "It's a nuisance," he told Katchpole during their meeting, praising the young woman's signature drive as a way to draw attention to problems with retail banking.
Katchpole says her petition, now with 200,000 signatures, prompted Bank of America to say that it is responsive to customer feedback, but the bank added that it would be premature to roll back the new charge.
Miller said he does find it curious that banks began raising their fees all at the same time -- right after the passage of legislation restricting other bank charges.
And while he said he supports his colleague's call for an investigation by the Attorney General, Miller said "I do not see any evidence of collusion" to suggest the law has been broken.