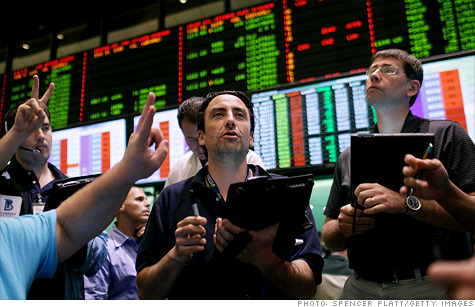 Because of ramapant oil speculation. Americans will spend $600 more on gasoline in 2011, hitting a record $2,900 per household, according to the Consumer Federation of America.
NEW YORK (CNN) -- Oil market speculation will cost U.S. households more than ever in 2011, a consumer group predicts, and the drain on household incomes will increase unless government rules to curb it are imposed.
"Speculation will add $600 to the average household expenditures on gasoline in 2011," a report released Thursday by the Consumer Federation of America said, "resulting in the highest level of spending ever of almost $2,900.
Consumer spending is the main driver of the U.S. economy and in the current weak economic environment, the consequences of rising oil prices are alarming, the CFA said.
Spending on gasoline accounts for less than half of all U.S. oil product consumption, so when higher oil prices get factored into all the other oil-based products households buy, the overall problem becomes much greater, the report says.
"When speculators, oil companies and OPEC rob consumers of that much spending power, the inevitable result is a dramatic reduction of economic activity and employment," said CFA Director of Research Mark Cooper.
Speculation has been an integral part of the oil market for some time, but it alone may not be to blame for the recent volatility and price spikes. The report says market deregulation has a lot to do with it.
The oil market was deregulated in December of 2000, creating opportunities for excessive speculation and a massive increase in the market's size, the report states. Prior to this change in policy, speculation didn't have a heavy impact on oil prices, nor was it so widespread.
"This report provides a timely reminder that it was weak regulation that landed us in our current economic mess," CFA Director of Investor Protection Barb Roper said, "and it will take a strong policy response to restore the economy to health."
The CFA said deregulation added about $30 per barrel to the cost of oil in 2011, draining more than $200 billion -- 1% of gross domestic product and 2% of consumer spending -- from the economy.
A 2% reduction in consumer spending on goods and services translates into the loss of hundreds of thousands of jobs, according to the CFA.
In 2011 oil prices traded in a range between about $80 and $100 a barrel.
Without speculation, the price of crude oil would instead fall somewhere between $60 and $75 per barrel, according to the CFA.