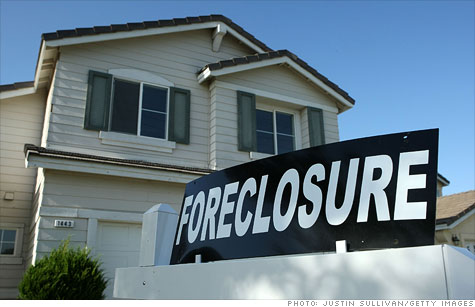 Foreclosures filings increased in the latest quarter, along with the time it takes to process them.
NEW YORK (CNNMoney) -- Foreclosures continued to plague the U.S. housing market last quarter, while a a growing backlog has caused the length of the foreclosure process to drag on and on.
Nationwide, foreclosure filings totaled 610,337 in the third quarter, an increase of less than 1% from the previous quarter, said RealtyTrac, an online marketplace for foreclosed properties.
Even though the increase was small, it is significant since it broke the trend of three consecutive quarterly decreases, said RealtyTrac Chief Executive James Saccacio.
"This marginal increase in overall foreclosure activity was fueled by a 14% jump in new default notices, indicating that lenders are cautiously throwing more wood into the foreclosure fireplace after spending months spent trying to clear the chimney of sloppily filed foreclosures," he said.
Month-over-month, there were fewer foreclosures. Nationwide filings totaled 214,855 in September, a decrease of 6% from August and a 38% decrease from September, 2010.
"While foreclosure activity in September and the third quarter continued to register well below levels from a year ago, there is evidence that this temporary downward trend is about to change direction, with foreclosure activity slowly beginning to ramp back up," said Saccacio.
Meanwhile, the time it takes to process foreclosures continued to grow. During the third quarter, once a bank began the foreclosure process it took an average of 336 days to complete, according to RealtyTrac. That's up from a nationwide average of 318 days during the second quarter. It's also the longest average foreclosure period going back to the first quarter of 2007, before the housing crisis began.
In New York and New Jersey, it took nearly three times as long for the foreclosure process to be completed. In the Empire State, it took an average of 986 days for the average foreclosure to be processed -- the longest in the country -- while in the Garden State, it took 974 days, according to RealtyTrac.
Compare that to Texas, where it took an average of 86 days to complete a foreclosure in the third quarter, the fastest foreclosure process in the nation, the company said.
Nevada, once a boom state for real estate, maintained its current title as the poster child for foreclosures. The state had the nation's highest foreclosure rate: one in every 44 housing units.
California had twice the rate of Nevada, but it still had the second-highest foreclosure rate, with one in every 88 units.