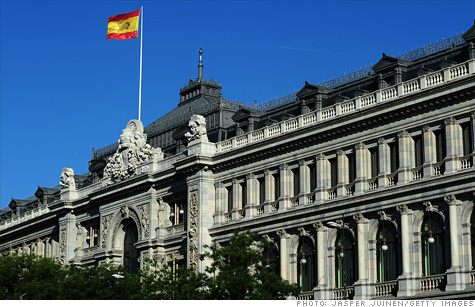 The Spanish flag flies from the national central bank of Spain. Standard & Poor's cut its rating on the country's debt for the second time in a month.
NEW YORK (CNNMoney) -- Standard & Poor's downgraded Spain's credit rating Friday, blaming economic malaise and dim prospects.
S&P lowered Spain's long-term rating to AA- with a negative outlook, citing risks to economic growth and the banking sector.
"Despite signs of resilience in economic performance during 2011, we see heightened risks to Spain's growth prospects due to high unemployment, tighter financial conditions, the still high level of private sector debt, and the likely economic slowdown in Spain's main trading partners," the rating agency said in a statement.
Looking ahead, S&P highlighted ongoing challenges facing the country. "The financial profile of the Spanish banking system will, in our opinion, weaken further, with the stock of problematic assets rising further," said S&P analysts.
The rating agency said that Spain is being held back by "uncertain growth prospects in light of the private sector's need to access fresh external financing to roll over high levels of external debt amid rising costs and a challenging external environment."
This isn't the first time S&P has gone after Spain this week. On Tuesday, the rating agency announced negative rating actions on 15 Spanish financial institutions, including prominent banks SpanishBanco Santander S.A. and Banco Bilbao Vizcaya Argentaria S.A.
Banco Santander's (STD) stock has plunged more than 20% year-to-date, while shares of Banco Bilbao Vizcaya Argentaria S.A. (BBVA) are down 11% from the start of the year.
S&P mentioned the Spanish economy's "dimming growth prospects" when it lowered credit ratings on 10 of the banks.
Spain is one of the so-called "PIIGS", a group of fiscally distressed nations that include Portugal, Italy, Ireland and Greece.
European markets were trading higher Friday, with London's FTSE 100 (UKX), Frankfurt's DAX (DAX) and the CAC 40 (CAC40) in Paris all rising 0.8%. The gains come a day after Slovakia lawmakers approved the expansion of Europe's bailout fund.