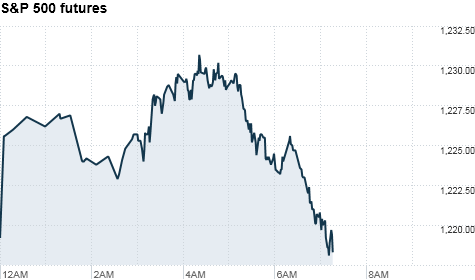 Click the chart for more premarket data.
NEW YORK (CNNMoney) -- U.S. stocks headed for a weak open Monday as relatively strong earnings from Citigroup failed to eliminate persistent jitters over Europe's debt crisis.
The Dow Jones industrial average (INDU), S&P 500 (SPX) and Nasdaq (COMP) futures edged lower ahead of the opening bell. Stock futures indicate the possible direction of the markets when they open at 9:30 a.m. ET.
This was after Citigroup (C, Fortune 500) beat expectations on its quarterly earnings, and after Wells Fargo (WFC, Fortune 500) came in with revenue slightly more than expected and profit slightly less.
Meeting in Paris over the weekend, finance ministers from the world's largest economies pledged to take "all necessary actions" to stabilize global financial markets and ensure that banks are well capitalized. (G-20 finance chiefs back Europe bank rescue)
Officials promised to have a comprehensive plan to secure the banking system and resolve Europe's sovereign debt problems in place by next Sunday, when the European Council meets in Brussels.
The announcement initially sent European stocks higher early Monday, but as traders geared up for the opening bell in New York, European indexes and U.S. stock futures turned lower.
"There's a bit of uncertainty and that uncertainty is creating volatility," said Anthony Conroy, head trader at BNY ConvergEx Group.
He added, many traders are skeptical that Europe can put a comprehensive debt plan in place by next weekend. "They've been working on it for two years, and to set a deadline for one week is a bit aggressive," he said.
While key hurdles remain for the eurozone, investors have been clinging to any positive economic data they can get lately. Last week, they temporarily shrugged off eurozone jitters and a drop in profit at JPMorgan Chase.
The Dow and Nasdaq rallied Friday, after a government report showed a jump in retail sales. That moved both indexes into positive territory for the year. The S&P came close.
But with looming uncertainty over Europe's debt crisis and several large U.S. banks expected to report paltry earnings this week, some investors wonder whether last week's rally will be sustainable.
Economy: The Empire State Manufacturing survey is due before the start of trading. The regional reading on manufacturing is forecast to have improved slightly to negative 4 in October from negative 8.8 in September, according to consensus estimates from Briefing.com.
A separate report is expected to show that industrial production edged up 0.2% in September, after rising the same amount in the previous month.
Companies: Shares of Citigroup (C, Fortune 500) edged up 1% in premarket trading after the bank announced third-quarter net income of $3.3 billion, or $1.23 per diluted share, and revenue of $20.8 billion.
Wells Fargo (WFC, Fortune 500) slipped more than 2% after the bank reported a surge in net income to $4.1 billion, or 72 cents earnings per diluted share, but a decline in revenue to $19.6 billion.
Hasbro (HAS) fell 2.2%, after the toymaker's profit fell short of estimates.
IBM (IBM, Fortune 500) will report its quarterly results after the market close.
Pipeline operator Kinder Morgan (KMI, Fortune 500) announced Sunday that it is acquiring rival El Paso (EPB) for $38 billion in cash, stock and assumed debt.
The acquisition is the second-largest M&A deal announced this year, just behind the $39 billion AT&T (T, Fortune 500) purchase of T-Mobile. (Merger Sunday: Kinder Morgan buying El Paso)
Oil producer BP (BP) announced Monday that it reached an agreement with Anadarko Petroleum (ADC) to settle all claims between the companies related to the Deepwater Horizon accident. (Anadarko to pay BP $4 billion)
As part of the settlement, Anadarko will pay BP $4 billion in a single cash payment and both parties have agreed to mutual releases of claims against each other. BP shares were up 3.4% and Anadarko shares were up 3.9% in premarket trading.
World markets: European stocks were mixed in afternoon trading. Britain's FTSE 100 (UKX) rose 0.2%, the DAX (DAX) in Germany lost 0.2% and France's CAC 40 (CAC40) rose 0.1%.
Asian markets finished with gains. The Shanghai Composite (SHCOMP) added 0.4%, the Hang Seng (HSI) in Hong Kong surged 2% and Japan's Nikkei (N225) ended 1.5% higher.
Currencies and commodities: The dollar rose against the euro, the Japanese yen and the British pound.
Oil for November delivery gained 11 cents to $86.91 a barrel.
Gold futures for December delivery added $3.40 to $1,686.40 an ounce.
Bonds: The price on the benchmark 10-year U.S. Treasury rose, pushing the yield down to 2.22% from 2.23% late Friday.