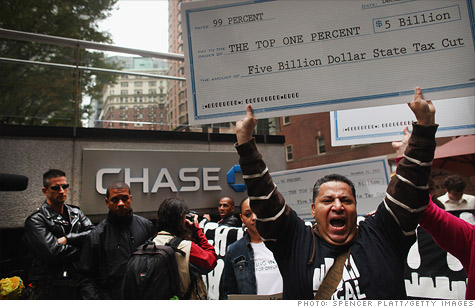 Occupy Wall Street protesters march outside a JPMorgan Chase building in downtown Manhattan. Protesters may need to team up with angry invetsors to really change anything.
NEW YORK (CNNMoney) -- If Occupy Wall Street really wants to make a difference, they need to get some of their members to occupy annual shareholder meetings.
Yes, the protests that started in New York's Zuccotti Park and have now spread across the globe have attracted a lot of attention. But it's mostly from the media.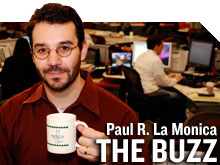 For Occupy Wall Street to really have a chance of actually accomplishing anything besides giving people like me something to write about, protesters have to work within the system.
They need to align themselves with large shareholders who should also be resentful of how big banks and other public companies are run. It shouldn't be that hard to find some disgruntled investors that may want to take a more active role in fixing what's ailing the financial system.
Shares of Citigroup (C, Fortune 500), Goldman Sachs (GS, Fortune 500) and Morgan Stanley (MS, Fortune 500) have each fallen about 40% year-to-date. Bank of America has lost more than half its market value in 2011.
"Investors may share the same anger or resentment that some of the Occupy Wall Street folks do," said Jonathan Finger, a partner with Finger Interests, a Houston-based investment firm that owns shares of BofA, Citi and JPMorgan Chase (JPM, Fortune 500). "There are issues with executives being paid for failure and a perception that Wall Street was bailed out while the middle class was not."
The 99% needs to realize that it may have to partner with large investors (even if some of them are the hated 1%) to really get things changed for the better.
Mark Cuban, the outspoken billionaire owner of the Dallas Mavericks basketball team and chairman of cable network HDnet, said just that in a blog post last week.
"If OWS really wants to change corporate structure and impact the economy, talk to shareholders," he wrote, adding that protesters "might even consider buying a share of stock. Just 1."
"Maybe you can all pitch in and then go to a shareholders meeting and let them know how you feel about the best interests of shareholders," he continued.
I realize that Occupy Wall Street members feel that their strength lies in not having a firm agenda or core group of vocal, visible leaders. It's meant to be a movement that represents everyone not in the 1%. But without a true plan and/or charismatic person or people to articulate what the group really wants, nothing will be changed.
Cuban agreed. In an e-mail to me Monday, he said that "the movement needs a spokesperson who can enunciate some of their positions and goals and provide leadership."
If more investors shared the sentiment of the Occupy Wall Street protesters, it would be far more difficult for corporate boards to justify the status quo -- i.e. a system where public companies focus more on the short-term and reward executives for mediocrity.
"More activist shareholders should say they are concerned about the disparity in income between CEOs and rank-and file employees," said Barry Ritholtz, CEO of Fusion IQ, a New York-based research firm and a vocal skeptic of the various Wall Street bailouts three years ago.
Ritholtz argues that one of the biggest problems at the banks is that executives get big bonuses for meeting near-term targets and that creates an atmosphere where reckless risk-taking is encouraged. That needs to change.
College students facing a terrible job market and the long-term unemployed shouldn't be the only ones outraged about the way large banks do business. We all should be. Wouldn't big banks be better off if they set aside less money to pay their top brass hundreds of times as much as their other employees?
"The transfer of wealth from shareholders to corporate insiders has taken short-termism to a whole new level. The 'making the quarter' attitude is deadly for the long-term health of the banks," Ritholtz said.
So I hope that once the Occupy Wall Street group decides to leave downtown Manhattan, they continue to fight the fight. It's not enough to just bring attention to the fact that there is this huge gap in income. Marching and chanting can only go so far.
Companies are not totalitarian governments. The comparisons to the Arab Spring revolts that many of the Occupy Wall Street protesters are trying to make are only relevant in the sense that technology and social media is helping to galvanize the protesters.
But you can't overthrow a bank CEO by sitting in a privately owned square for a couple of weeks. You can only do that by having some skin in the game. Public companies listen to their shareholders. That's why Occupy Wall Street has to do more to court big pension funds and other institutions.
Finger's firm, for example, was highly critical of Ken Lewis, the former BofA chairman and CEO. Lewis was stripped of the chairman title in April 2009 and ultimately decided to retire as CEO a few months later.
Of course, one could argue that little has changed for the better with Lewis gone. BofA is still having problems, and Finger said that the bank's recent decision to slap a $5 monthly debit card fee on consumers was a "public relations miscalculation."
But that doesn't mean shareholders (and Occupy Wall Street protesters) should stop trying to persuade banks that they must change or else. Ritholtz said that even if large investors aren't interested in social justice, they should take the long-term view and recognize that a stronger economy with a vibrant middle class is good for everyone.
"Investors have to speak up to the boards of directors who rubber stamp insane compensation packages," he said. "History has shown us when we have a broad disparity in wages, we've had social unrest and other problems. This is not a healthy situation."
The opinions expressed in this commentary are solely those of Paul R. La Monica. Other than Time Warner, the parent of CNNMoney, and Abbott Laboratories, La Monica does not own positions in any individual stocks.