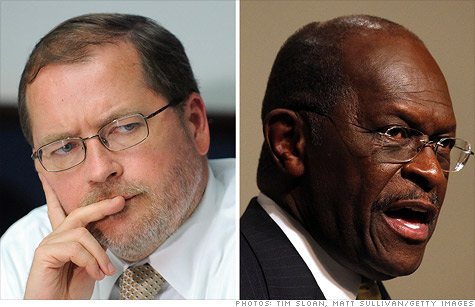 Grover Norquist is not a fan of Herman Cain's 9-9-9 plan.
NEW YORK (CNNMoney) -- Herman Cain's 9-9-9 tax plan is gaining traction, but not in every quarter.
One very influential member of the Republican establishment remains unconvinced: Grover Norquist, the president of Americans for Tax Reform.
A kingmaker on tax issues, Norquist is concerned that Cain's 9-9-9 plan would open new avenues for taxation -- something he says is a major strategic error in the fight for lower rates.
Cain's 9-9-9 plan would get rid of almost all current taxes and initially replace them with a 9% income tax, a 9% corporate tax and a 9% national sales tax.
And while Norquist favors lower overall rates, he is not a fan of new taxes.
"If it was coming up for a vote tomorrow, I would not support it," Norquist said Monday.
"It gives you three taxes, all of which could grow," Norquist told CNNMoney. "You will have put three needles in your arm to draw blood instead of one."
Because 9-9-9 is supposedly revenue neutral -- that is, the government would collect the same total dollar amount in taxes it does now -- Norquist said 9-9-9 does not technically violate his "Taxpayer Protection Pledge."
Norquist wields power among Republicans by signing candidates and other officials to a "pledge" that promises they won't raise taxes.
But Norquist is also concerned about the second phase of Cain's plan.
Cain, a former chairman of the Kansas City Federal Reserve bank, ultimately wants the country to adopt a Fair Tax. His campaign did not immediately respond to requests for comment.
A fair tax is essentially a national sales tax, or VAT. Consumers would pay federal tax on what you spend rather than on what you earn, save or invest.
Norquist doesn't favor adopting a VAT, and cited Europe's experience with the tax as a reason for steering clear.
"By creating additional taxes, you are more likely to get in a bad place," he said.
A better option? A more incremental change to lower rates.
"Just take the present system and prune it back like a rose bush," Norquist said.