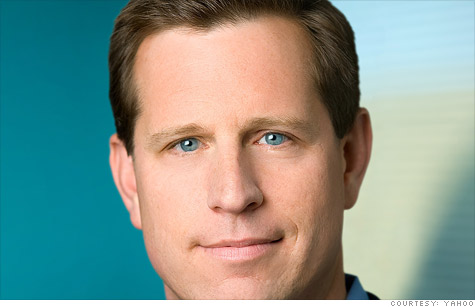 Interim CEO Tim Morse has been running Yahoo since Carol Bartz's firing last month.
NEW YORK (CNNMoney) -- Yahoo's sales and earnings in the third quarter fell compared to last year, but came in ahead of analyst forecasts.
Yahoo had a $293 million profit in the quarter ended Sept. 30, down 26% compared to last year. The company's sales for the quarter, excluding traffic acquisition costs -- revenue shared with partners -- came in at $1.07 billion, a 5% decline from last year. Yahoo's earnings per share were 23 cents.
Both figures topped the consensus estimates of analysts polled by Thomson Reuters.
Yahoo's display ad sales -- a closely watched metric for the company -- were flat compared to last year, tallying $449 million for the quarter.
On the company's earnings call, interim CEO Tim Morse cited some key areas of progress, including a recently inked content alliance with ABC News.
"On the premium side, we're going to continue to ramp up our sales force," Morse said on a conference call with analysts on Tuesday. "I feel great about ABC, working well with Facebook, and working well with a number of video producers."
Shares of Yahoo (YHOO, Fortune 500) were trading edged up 2% in after-hours trading.
It's the company's first earnings report since Carol Bartz was fired as CEO last month and CFO Morse was named as Bartz's interim replacement. The transition wasn't a smooth one: Bartz blasted off an e-mail to the entire company about her firing, and later complained to Fortune that Yahoo's board "f--ked me over."

Yahoo's board is now searching for a new leader and evaluating whether the company should be kept intact or sold off in pieces.
Alibaba CEO Jack Ma, whose Chinese Internet conglomerate is partially owned by Yahoo, said he would be interested in buying up Yahoo. Private equity firms are also sniffing around.

When asked for an update on the company's CEO search, Morse kept it brief: "All I can tell you is it's under way," he said.
When asked why the board ousted Bartz despite Yahoo being on track to hit its projections for the quarter, Morse answered simply that the company was "pleased to have exceeded consensus." Regarding Bartz's firing, he matter-of-factly answered that "the board's process is the board's process."
But don't expect a replacement any time soon. "I'll reiterate -- this will take some time," Morse said when asked when some of the moving parts would begin to settle and a new CEO would be named. "The board wants to do what's best for the company. The board's process will be what it'll be and the timing will be what it'll be."