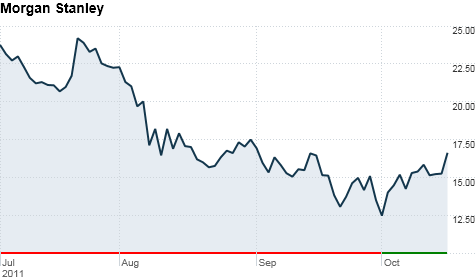 Click chart for more on Morgan Stanely
NEW YORK (CNNMoney) -- Morgan Stanley reported strong third-quarter earnings and revenue Wednesday that were driven largely by accounting gains.
The bank reported net income of $2.2 billion, or $1.14 a share, in the third quarter. That compares with earnings of $313 million, or 5 cents a share, in the same period a year ago.
Analysts were expecting 30 cents a share, according to estimates from Thomson Reuters.
Revenue rose 45% to $9.9 billion. Analysts had forecast sales of $7.4 billion.
Morgan Stanley (MS, Fortune 500) reported $5.4 billion in revenue from its sales and trading business. That includes $3.4 billion related to adjustments the bank made to reflect widening credit spreads.
Under the so-called debt valuation adjustment, or DVA, banks count as profit the potential gains that would be realized if they bought back debt at current market rates. The paper gains could turn into losses if the spread between what the bank pays and the market rate narrows.
"The DVA was much larger than I had expected," said Matthew Czepliewicz, an analyst at Collins Stewart.
Morgan Stanley said revenue from its fixed-income and commodities trading business totaled $3.9 billion, driven by a $2.8 billion gain from the debt adjustment. Excluding that benefit, revenue fell 17% from a year earlier, according to Morgan Stanley finance chief Ruth Porat.
But analysts said Morgan Stanley's equity market business performed much better than expected.
Revenue from equity trading and sales reached $2 billion in the quarter, including a $620 billion benefit from DVA. That division benefited from the market volatility and increased trading volumes during the quarter, which boosted brokerage fees.
Morgan Stanley's "compensation expense" was $3.7 billion -- more than a third of its net revenue in the quarter. The ratio of compensation to income reflects a jump in revenue stemming from certain credit adjustments, the bank said.
Shares of Morgan Stanley rose 2% in midday trading.
The stock has plunged to levels not seen since 2008 amid concerns about Morgan Stanley's exposure to the European debt crisis via the French banking sector. Shares are down almost 39% from the start of the year.
Morgan Stanley said it has $5.7 billion in exposure to the five most troubled European economies, including Greece, Portugal, Ireland, Italy and Spain. Taking hedges into account, the exposure is $2.1 billion.
The bank also disclosed that its $1.8 billion exposure to France is fully hedged.
"Clearly we're in a very dynamic environment," said Morgan Stanley CEO James Gorman, on an analyst call. But he added that Morgan Stanley "has made far more progress than it has been given credit."
Some analysts say the sell-off of Morgan Stanley's stock has been overdone.
"There was a fear factor about Morgan Stanley in the quarter," said Czepliewicz. "I think the market got a little bit carried away."
Gorman said that the bank's results should address the "concerns and misinformation that have weighed on the stock of late."
He said Morgan Stanley's biggest challenge is "subdued client activity." Looking ahead, Porat said the bank remains "concerned" about the outlook for global economic growth and the ability of policy makers to revive a slowing recovery.
Morgan Stanley is the latest to report in what is shaping up to be a disappointing quarter for big banks.
On Tuesday, Goldman Sachs (GS, Fortune 500) reported a larger-than-expected loss of $393 million as the bank's investment portfolio took a hit during the volatile quarter.
Citigroup (C, Fortune 500), Bank of America (BAC, Fortune 500) and JPMorgan (JPM, Fortune 500) all reported "gains" by adjusting the value of loans on the books to reflect widening credit spreads.