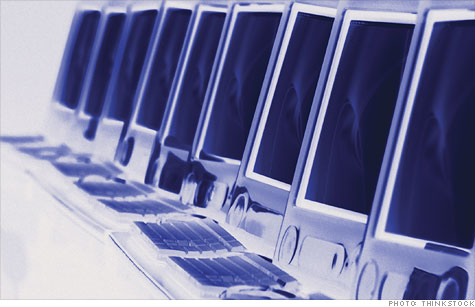 NEW YORK (CNNMoney) -- The trend is clear: Personal computer sales are slumping, and smartphone and tablet sales are booming. But Intel proved late Tuesday that the PC isn't going away anytime soon.
Semiconductor sales in Intel's (INTC, Fortune 500) PC division rose 22% last quarter, driving Intel's overall revenue to its sixth consecutive quarterly record. That comes despite a lackluster PC sales environment: Overall PC shipments grew just 3.2% globally last quarter, which is well below seasonal averages, according to Gartner.
Zeroing in on different regions and segments of the world provides a fuller picture of why the PC isn't yet dead, and why Intel has been so successful lately.
Consumer demand for PCs in the United States, Canada and Europe is slumping badly, but consumers in emerging markets can't get enough of them, Intel said. Sales in China were up 12%, India 21%, Turkey 14% and Indonesia 23%. China has become the world's No. 1 PC market, and fast-growing Brazil is now right behind the United States at No. 3.
"The global PC landscape is being reshaped," Paul Otellini, Intel's CEO, said during a conference call with analysts Tuesday. "We were very pleased with the momentum."
In its most recent survey of third-quarter PC shipments, Gartner found that the computer industry is thriving in other regions as well. In the Asia/Pacific region, PC shipments doubled the global average by growing 6% from the same period last year. Many former desktop PC owners in that region are now buying their first laptops, Gartner said.
The PC market in Latin America is the fastest growing, soaring 20% last quarter. Like Asia/Pacific, sales were buoyed by laptops, which grew 31% year over year. But even desktop shipments were up 6.5%.
Meanwhile, corporations around the world continue to buy up PCs -- even in Western countries where consumers are tightening their purse strings. Businesses are still in the midst of what's known as a "refresh cycle," purchasing new PCs to replace outdated ones that were never replaced due to the Great Recession and concerns about Microsoft's (MSFT, Fortune 500) Windows Vista operating system.
Intel said its overall sales for the quarter rose 28% to $14.2 billion, and profit grew 17% to $3.5 billion. Both set records and far surpassed analysts' expectations, sending shares up more than 4% Wednesday.
"Just an all-around solid execution," said Vijay Rakesh, analyst at Sterne Agee. "Intel continues to show a technology lead."
At the same time, analysts are keeping a close eye on Intel's transition to the mobile space. Sales of the company's Atom processors, which fuel netbooks and mobile devices, fell 30% year over year.
Meanwhile, the iPad has begun to eat into PC sales. When Hewlett-Packard (HPQ, Fortune 500) decided to exit the PC business, then-CEO Leo Apotheker cited as a prime reason that "the tablet effect is real."
Intel, however, remained upbeat. It said its "Ivy Bridge" 22-nanometer chips that will debut next year have made significant improvements in power consumption, and that will help the company take a lead in the new "ultrabook" segment. Ultrabooks are extremely light-weight notebook PCs that have long battery life and almost as much power as a full-sized laptop.
The chipmaker has has also partnered with Google (GOOG, Fortune 500) to build Android tablets on Intel's architecture, and it will power Microsoft Windows 8 tablets when they go on sale -- probably sometime next year.
Intel and its longtime partner Microsoft have been left for dead many times over. What Intel's past quarter proves is that whether or not the chipmaker has the right mobile strategy in place for the future, riding on the back of the still-alive PC will give Intel significant lead time to figure the problem out.