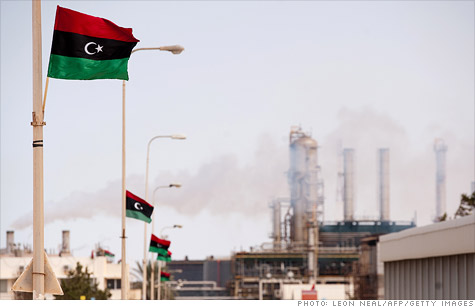 Even with Gadhafi dead, damaged infrastructure and political squabbles will likely hinder Libya oil production for years to come.
NEW YORK (CNNMoney) -- Even with Libyan leader Moammar Gadhafi dead, analysts say it will likely take years for the country's oil production to return to full capacity.
It's thought that Libya is producing about 350,000 barrels of oil per day, up from near zero during the depths of the conflict earlier this year.
Most of this oil goes to Europe, given its proximity and the previous longstanding U.S. embargo against the dictatorship. Italy's Eni (E) is the largest operator in the country.
Libya could probably double its current production relatively quickly, which at current prices might fetch $80 million or so daily on the open market. But a return to its prewar output of 1.6 million barrels a day, which could bring in hundreds of millions of dollars, is slow and complicated work.
Extensive repairs on old damaged oil fields will likely be required, and the challenge of Libya's new fractured leadership agreeing on how to divvy up the oil wealth remains daunting.
"We believe we will struggle to resume previous 1.6 million barrel-per-day levels even through 2014," Deutsche Bank analyst Paul Sankey wrote in a recent research note.
It's unclear how much damage Libya's oil fields have suffered. Officials with the rebel movement have said oil production could ramp up to pre-war levels in a little more than a year, sentiments that have been echoed by some in OPEC.
But outside analysts say that's optimistic. Oil infrastructure can be a fickle thing. Even if the wells aren't blown up in battle, if they're not continuously maintained they can fail quickly, especially the older variety that account for most of Libya's infrastructure.
Plus, any extensive repairs would need to be done in a country where the ports and roads are damaged, and where many of the oil industry's trucks and even much of its basic office equipment is thought to have been looted.
"We estimate that it will take around 36 months for the country to recover its full production capacity," the energy research firm Wood Mackenzie wrote in a recent report.
But the technical challenges may pale in comparison to the political ones.
As Deutsche's Banks's Sankey noted, Libya is a country of 140 different tribes and factions.
While it's thought the new government will honor old oil contracts at least temporarily as a means of gaining revenue, new laws will eventually need to be passed regarding how much in royalties companies have to pay, and how they are divvied up among the various political groups.
In addition to Eni, many companies want to start or increase operations in Libya, including European heavyweights such as BP (BP), Shell (RDSA), Total (TOT) and Spain's Repsol, plus American companies such as Occidental (OXY, Fortune 500), ConocoPhillips (COP, Fortune 500), Marathon (MRO, Fortune 500) and Hess (HES, Fortune 500).
But without solid oil laws major companies will be reluctant to invest the large sums of capital needed to not only restore production to its prewar level, but to eventually tap the huge amount of oil that lies untouched underneath the Libyan desert.
"The experience of Iraq and other Arab Spring nations is that forming a government, an oil ministry, and a hydrocarbon law will take much longer than promised," said Sankey. "Libya has a fractious and Byzantine tribal system that will make progress no easier here than in other post regime-change countries."
For U.S. consumers, the events in Libya will likely have little immediate effect. Thanks to the sluggish global economy and rising production from places such as North Dakota's Bakken shale, there is no current shortage of oil.
In fact, there's talk Saudi Arabia may soon cut production to maintain oil prices near current levels.
"Don't expect a big drop in oil or gas prices because of Libya," said Mike Fitzpatrick, a former oil trader who is now editor of Energy Overview, a research publication. "Libya is more of a sideshow right now."
-- CNNMoney's Poppy Harlow contributed to this report.