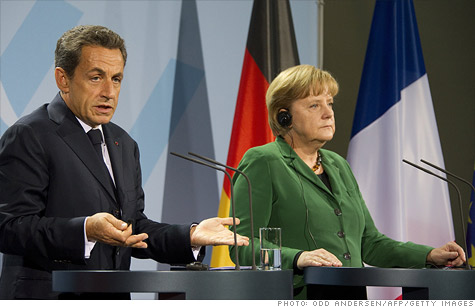 French President Nicolas Sarkozy and German Chancellor Angela Merkel are hammering out details on a plan solve Europe's debt crisis.
NEW YORK (CNNMoney) -- The only thing that's clear about Europe's debt crisis is that it needs to be resolved...and fast. How to get there is another story.
It now appears unlikely that European leaders will agree on a promised "comprehensive" plan when they meet this weekend.
French President Nicolas Sarkozy and German Chancellor Angela Merkel issued a statement Thursday saying they have "agreed to provide a comprehensive and ambitious global response to the current crisis."
But the leaders of Europe's two largest economies said final adoption of the proposed response would be made by European Union heads of state at a separate meeting that will take place some time before next Wednesday.
EU officials had all but promised to announce details of a "comprehensive" plan at this Sunday's meeting of the European Council in Brussels.
The call for a second meeting comes amid signs that Paris and Berlin are at odds over how to enhance the power of a bailout fund for banks and troubled euro area governments, known as the European Financial Stability Facility.
The EFSF, set up last year, was recently granted new powers to buy government bonds and loan money to governments that need to recapitalize banks. But the fund is widely seen as needing additional firepower to fully address the current crisis.
Analysts say France backs a plan to turn the EFSF into a bank. This would allow it to borrow from the European Central Bank or other institutions using government bonds as collateral. It could then use the proceeds to buy more bonds, in effect leveraging the fund's limited resources.
But the ECB and Germany oppose this method because it would violate the ECB's legal mandate and further expand its balance sheet. The ECB has already been reluctantly buying billions of euros worth of bonds issued by Italy and Spain, among others, in an effort to ensure that governments have access to affordable funding.
In their statement, Sarkozy and Merkel said they spoke by phone Thursday and agreed on "the operational implementation of new forms of EFSF intervention." The leaders also support a plan to strengthen European banks and boost economic governance and cooperation across the EU.
Sarkozy and Merkel also stressed the need for the Greek government to "make ambitious commitments" to boost the nation's economic competitiveness as part of a "new program."
EU leaders agreed in July to provide a second bailout for Greece, which the debt-stricken nation needs to remain solvent.
Greece has been crippled by violent protests this week as the nation's Parliament voted in another round of austerity measures. The beleaguered Greek government is expected to run out of money before the end of the year without additional support from its European partners.
Sarkozy and Merkel also referenced a report from Greece's bailout providers on the nation's "debt sustainability," suggesting the private sector may need to accept larger writedowns on the value of Greek government bonds.
"France and Germany call for negotiations to start immediately with the private sector to reach an agreement in order to strengthen this sustainability," the statement read.
Under a hard-fought agreement announced in July, bondholders agreed in principle to write down the value of Greek bonds by 21%. But given the lack of progress Greece has made on fiscal reforms, many economists say write downs of up to 50% will be necessary for the nation to finally get out of debt.