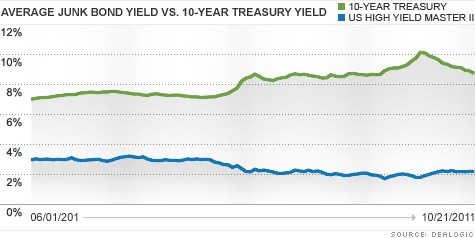 The difference between yields of high-yield corporate bonds and ultrasafe Treasuries has widened far beyond the historical average, making junk bonds really attractive.
NEW YORK (CNNMoney) -- Junk bonds lived up to their name this summer, but now investors just can't get enough of them.
As fears about Europe's deteriorating debt crisis and a slowing global economy escalated throughout August and September, investors flocked toward the safety of U.S. government bonds, pushing yields down.
That widened the spread between high-yield corporate bonds and ultrasafe Treasuries to more than 800 basis points -- much higher than the historical average of 525 basis points.
A higher spread typically signals a greater risk of a slowing economy but experts say that's just not the case right now.
"The sell-off in the high-yield market fully priced in a global recession, led by a slowdown in Europe," said Michael Collins, senior investment officer with Prudential Fixed Income. "Investors are getting compensated for a default rate of about 7%, which is a much more dire scenario than I think is reasonable."
Fitch Ratings says the default rate on U.S. high-yield bonds is tracking much lower, between 1% and 1.5% for the year. Even if a stalled global economy triggers an increase in default rates, they will only edge up to about 3% over the next year, said Collins.
Given the low prices and sky high returns, investors are eagerly piling back into the junk bond market. In fact, global investors poured a record $3 billion into high-yield bond funds during the week ended Oct. 19, according to EPFR Global. And so far in October, the Barclays Capital High-yield bond ETF (JNK) has soared more than 7%.
That turnaround has brought down junk bond yields slightly, and narrowed the spread over Treasuries, but experts say there's still plenty of room to profit.
"We're in a Goldilocks period for junk bonds," said Marc Gross, portfolio manager of the RS Investments High Yield Bond Fund (GUHYX). "The global economy is growing very slowly, but companies are running very lean and healthy, coming off the last recession."
Gross says to focus on higher quality junk bonds, those with credit ratings B or BB credit ratings, as opposed to CCC.
"There are always exceptions, but over time, CCC-rated bonds will have higher default rates," said Gross.
Mutual funds like Vanguard High-Yield Corporate Fund (VWEHX) and the MainStay High-yield Corporate Bond Fund (MHCAX) have between 80% to 90% of their assets in B and BB-rated corporate bonds.