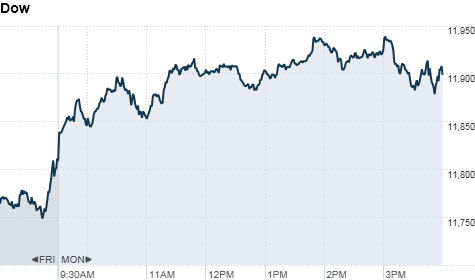 Click the chart for more stock market data.
NEW YORK (CNNMoney) -- U.S. stocks ended sharply higher Monday, as investors welcomed two merger announcements and strong earnings from Caterpillar.
The Dow Jones industrial average (INDU) gained 105 points, or 0.9%, the S&P 500 (SPX) rose 16 points, or 1.3%, and the Nasdaq composite (COMP) 62 points, or 2.4%.
Caterpillar (CAT, Fortune 500) led the Dow's gains, after the equipment manufacturer reported record revenue for the third quarter and issued a strong outlook. Caterpillar said the eurozone debt problems and slowing U.S. economic growth are "concerning," but they are not signaling "the onset of recession."
Financial stocks were also big winners, with Citigroup (C, Fortune 500), JPMorgan Chase (JPM, Fortune 500), and Bank of America (BAC, Fortune 500) shares all rising more than 3%.
Investors were also cautiously optimistic about progress made toward addressing Europe's debt crisis.
Europe's top leaders said Sunday that they were getting closer to finalizing a plan to solve the continent's debt crisis. But with a final agreement not expected before Wednesday, the actual details remained under wraps.
"It seems that European leaders are getting down to the brass tack of a resolution, but there's still nothing to write home about," said Brian Battle, vice president at Performance Trust Capital Partners. "Investors will be holding tight until Wednesday."
On Friday, U.S. stocks rallied to their highest levels since early August, as investors grew increasingly hopeful about a resolution to Europe's debt crisis.
Friday's gains pushed the Dow back into positive territory for 2011, with all three indexes on track for their best monthly performance in more than a year.
Meanwhile, Monday's increases drove the Nasdaq back into the black for the year, and the S&P 500 was just a few points shy of the breakeven line.
Companies: Health insurer Cigna (CI, Fortune 500) agreed to acquire HealthSpring (HS) for $3.8 billion, sending shares of the health care medical plan provider up more than 30%.
Shares of RightNow Technologies (RNOW) spiked after Oracle (ORCL, Fortune 500) said it will buy the company for $1.5 billion, or $43 a share.
Shares of WebMD (WBMD) advanced, after an SEC filing revealed that Carl Icahn, of Icahn Enterprises, owns 7.94% of the health care information site. Icahn said he believes that WebMD shares are "undervalued from a long-term perspective."
Shares of Netflix (NFLX) tumbled 21% in after-hours trading when the company announced third-quarter earnings after the closing bell. Netflix beat earnings and revenues estimates for the quarter, but said it lost 800,000 U.S. subscribers. Netflix also issued a weaker-than-expected forecast for the fourth quarter.
Economy: U.S. housing finance agencies -- the Federal Housing Finance Agency, with Fannie Mae and Freddie Mac -- unveiled changes aimed at helping troubled homeowners refinance mortgages.
The new rules will allow severely underwater borrowers, who owe more than 125% of the market value of their homes, to get new loans.
New York Fed President William Dudley called for policymakers to make it easier for homeowners to refinance at lower mortgage rates and prop up home prices, while speaking at Fordham University on Monday.
World markets: European stocks ended sharply higher. Britain's FTSE 100 (UKX) added 1.1%, the DAX (DAX) in Germany rose 1.5% and France's CAC 40 (CAC40) gained 1.4%.
Asian markets also rallied, after an HSBC reading on Chinese manufacturing showed activity in the sector rose to a five-month high in October. The report lessens fears that China's economy is slowing too quickly.
The Shanghai Composite (SHCOMP) climbed 2.3%, the Hang Seng (HSI) in Hong Kong surged 4.1% and Japan's Nikkei (N225) rose 1.9%.
Currencies and commodities: The dollar fell against the euro, British pound, and the Japanese yen.
Oil for December delivery gained $3.87 to settle at $91.27 a barrel.
Gold futures for December delivery rose $16.20 to settle at $1,652.30 an ounce.
Bonds: The price on the benchmark 10-year U.S. Treasury fell slightly, pushing the yield up to 2.23%.