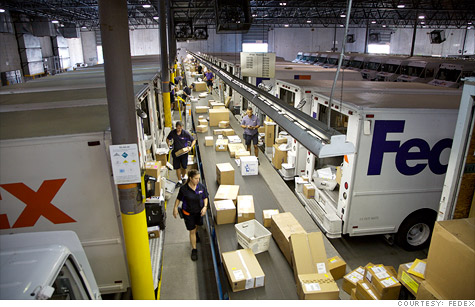 FedEx says it will ship more than 260 million packages this holiday season, a 12% increase from last year.
NEW YORK (CNNMoney) -- Recession worries won't be slowing down FedEx this holiday season.

The global shipping giant said Monday that this December 12 is set to be the busiest day in company history, with more than 17 million packages in transit. This haul is part of the roughly 260 million shipments FedEx (FDX, Fortune 500) expects to handle between Thanksgiving and Christmas, a 12% increase from last year.
FedEx said it will add 20,000 seasonal positions this year to help cope with the holiday rush.
"As e-commerce continues to grow and demand increases with more customers shopping and conducting their business online, FedEx... is poised to handle the increase in shipments," FedEx CEO Frederick Smith said in a statement.
Overall, retailers are expected to hire between 480,000 and 500,000 seasonal workers this year, according to a report released earlier this month by the National Retail Federation.

That's in line with the 495,000 seasonal employees they hired last year, but still far from pre-recession highs.

The Macy's department store chain said last month that it would hire 78,000 temporary workers this holiday season, up from 75,000 last year. Toy seller Toys "R" Us has announced plans to hire 40,000 holiday workers this year, in line with previous years, while electronics retailer Best Buy will hire just 18,000, down from 29,000 in 2010.
The FedEx announcement comes as the US Postal Service, by contrast, struggles with declining mail volumes and mounting benefit costs. Last week, USPS said it was increasing the price of a first class stamp by one cent starting next year, hoping to help stem losses that reached $8.5 billion in fiscal year 2010.