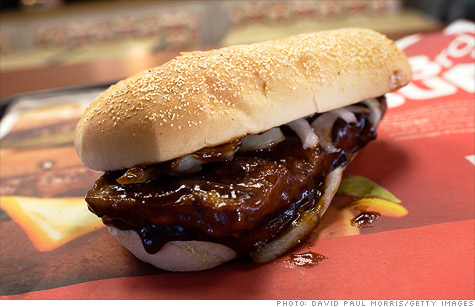 McDonald's McRib sandwich has returned -- but only until November 14th.
NEW YORK (CNNMoney) -- McDonald's McRib, the BBQ-sauce-drenched sandwich with a cult following, is back -- for a limited time.
The boneless-pork sandwich will be available at the fast food chain's approximately 14,000 U.S. locations through November 14th, though there will be a few franchises that don't carry it, McDonald's (MCD, Fortune 500) spokeswoman Danya Proud said.
"The McRib has an enthusiastic and dedicated fan base," said McDonald's U.S. marketing director Marta Fearon. "And we thank those customers for contributing to our decision to bring back the McRib nationwide in 2011."
The McRib -- which does not, in fact, contain ribs -- returned from a 16-year hiatus for several weeks in the fall of last year. Its stint on the market led to a 4.8% U.S. sales increase in November 2010 for McDonald's overall, compared to the same month a year earlier.
While its forays onto the national stage are rare, individual franchises have featured it from time to time. "It's been a local market decision" in recent years, Proud said.
Asked why the McRib is available only sporadically despite its strong sales, Proud compared it to the Shamrock Shake, a green-hued milkshake available around St. Patrick's Day, and said it "was never designed to be a permanent menu item."
Perhaps no corner of the Internet greeted the McRib's return more enthusiastically than McRib Locator, a hub of all things McRib. "McRibs are popping up EVERYWHERE! Woot!" reads a Monday Facebook update from the site, where diehards report sightings and submit photos of themselves gleefully consuming the sandwiches.
Others weren't exactly salivating at the McRib's reappearance. "I just McVomitted in my mouth!" wrote Twitter user lauraSEP. Still others expressed cynicism at the sandwich's on-again, off-again availability. "The McRib has come back more times than Brett Favre," jefffromwarren tweeted.
As for when the McRib might next grace McDonald's menus, the company is playing it characteristically coy.
"At this time, we can't speculate on its return in the future," Fearon said in a statement. By phone, a McDonald's spokeswoman said the McRib typically returns in the third quarter.
Playing up the McRib's elusiveness, McDonald's is promoting it through an online game called the Quest for the Golden McRib, in which players contend with "emo pilgrims" and "viking accountants" to reach the sandwich.
At 500 calories, the sandwich weighs in about halfway between a 10-piece Chicken McNuggets (470 calories) and a Big Mac (540 calories), according to nutrition facts posted on McDonald's website.