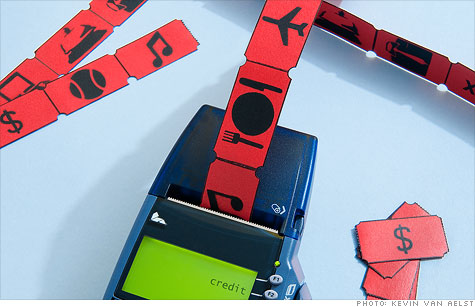 Credit card rewards are becoming more generous, but you should still be wary of deals that are too good to be true.
(MONEY Magazine) -- You may have noticed, while shredding the latest crop of credit card mailers, that rewards programs seem to be getting more generous.
After retrenching during the recession, "card issuers are back in the game in a big way trying to get new customers," says Ben Woolsey of CreditCards.com. They're using retooled rewards as a lure.
Here's how to assess three of the newer offers so you can separate the garbage from the good deals.
Better Rewards -- for a Price
Several major issuers have introduced souped-up versions of their basic rewards card, with better perks for those willing to pay an annual fee of up to $95.
Issuers are hoping to increase fee revenue, while realizing "that they have to give value to the consumer to make the cards that much more worthwhile," explains Schwark Satyavolu, CEO of BillShrink, a site that helps consumers evaluate credit offers.
Take American Express (AXP, Fortune 500) Blue Cash Preferred, launched in April. For $75 a year you get 6% on groceries, vs. 3% with the no-fee Blue Cash card; 3% vs. 2% on gas and department store purchases. Chase (JPM, Fortune 500) and Capital One (COF, Fortune 500) are offering similarly enhanced versions of their free Sapphire and VentureOne cards.
The fee on all of these is often waived the first year; plus, you get a bigger bonus than with the free card -- points worth $500, vs. $250 on the Chase Sapphire options -- if you spend a certain amount within the first few months.
Worth It?
The bonus and fee waiver make these cards winners for the first year. After that, it depends on how much you charge, and in some cases, what you buy, says Tim Chen of NerdWallet.com. With the Capital One card, which effectively pays 2% on everything, you'd need to spend $8,000 a year to come out ahead of the free version.
Recouping the fee is trickier with the other cards, which earn substantial rewards only on select purchases. Review a few months of credit card bills to see if you spend enough in eligible categories to overcome the cost.
Bigger Signing Bonuses
Issuers have long tried to lure you with sign-up bonuses, but today's deals, heavily marketed to high credit scorers, are particularly generous. Last year, the average boon was 16,000 points or miles; now it's 19,000, according to NerdWallet.com.
This trend is especially evident among travel cards: Currently you can get 30,000 miles with the Citi (C, Fortune 500) Platinum Select/AAdvantage Visa Signature, for example, and 50,000 with Chase's British Airways Card. With some of the cards, the bonus alone can buy you a roundtrip ticket.
Worth It?
For some people. Be aware that you usually have to spend a certain amount ($2,500 within 90 days with the Chase example) to get the maximum award. "The bigger the bonus, the harder the action is to complete," says Alex Matjanec of MyBankTracker.com.
Beyond that, the travel cards make sense if you travel at least five times a year with the affiliated airline or hotel, says Matjanec. You earn the most rewards on those expenditures, far less on other purchases. (Some don't give any points for groceries or gas.)
Also, most of the redemption options are travel-related. As for other cards with big bonuses, make sure the rewards rate is at least 1.5% on the categories you typically charge, says Chen.
The most generous signing offers can be fleeting. So go to NerdWallet.com and MyBankTracker.com for the latest options.
Points for your Loyalty
Issuers are sweetening the pot to get you onboard -- and keep you there. Since August, Capital One's Capital Cash card has been promising a 50% bonus on the cash back earned for the year on every anniversary of opening the account. With a Citi ThankYou card, you get 3% on your rewards balance annually after three years of membership (1% after one year; 2% after two).
Worth It?
Look under the hood to find out. It's more important that the card earn at least 1.5% on purchases throughout the year than treat you to a one-time bonus. Capital One's option is pretty good, since the bonus effectively raises its earn rate to 1.5%. Citi's is less lucrative -- the 1% rate means that with $10,000 in spending, you'd get back $100, and a meager $3 with the bonus. You'd be missing out on cards a lot more rewarding.