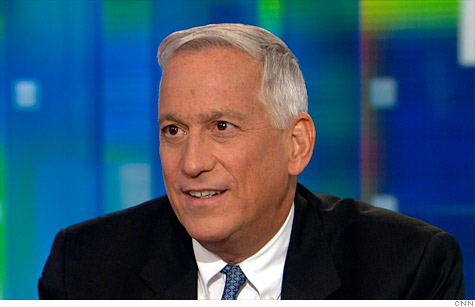 Steve Jobs biographer Walter Isaacson appears on "Piers Morgan Tonight."
NEW YORK (CNNMoney) -- In an interview with "Piers Morgan Tonight" on Wednesday, Steve Jobs biographer Walter Isaacson said the Apple impresario was convinced he would beat his cancer right up until his death.
"He never thought that the cancer was going to catch him," Isaacson said. With the many specialized treatments Jobs received, "Jobs thought he could be the first person to outrun the cancer by staying one step ahead of it."
Despite his belief in his invulnerability to cancer, Jobs was sharply aware of his mortality from a young age.
Isaacson said Jobs often told people, "we're all going to die," even long before his diagnosis.
In addition to Jobs' death, Isaacson and the primetime host talked about Jobs' singular life -- and his genius.
A hallmark of Jobs' brilliance, Isaacson said, was his ability to fuse the romantic and the scientific. The biographer compared his artistic sensibility to that of Picasso and Bob Dylan and said Jobs had the ability to "tie poetry to microprocessors."
"There's that sort of emotional, sentimental, romantic side of him and there's the down to earth, hard core business side of him," Isaacson said.
Isaacson hailed Jobs' much-praised showmanship and eye for detail. Describing the launch of an early Macintosh computer, he marveled at how Jobs "choreographed everything ... from the lighting to the poor Macintosh team that had staggered across the finish line just a couple of weeks earlier to get the coding done."
While the biographer had high praise for Jobs' marketing and business acumen, his book is far from a hagiography. The author was candid with Morgan about Jobs' notorious temper.
Isaacson, a former chairman of CNN and the current CEO of the Aspen Institute, said he witnessed Jobs' abrasive behavior first hand in Apple's offices. "That's the stupidest blank blank blank idea I have ever heard," he said, describing Jobs' his reaction to an underling's suggestion.
Isaacson was even once himself the object Jobs' anger. When Jobs caught a glimpse of the proposed cover of Isaacson's biography, the design-obsessed tech visionary said it was "the worst thing he'd ever seen," and threatened to stop cooperating with the project. A new cover was created and the collaboration continued.
Jobs' outbursts were partly explained by the fact that he was a "deeply, deeply emotional person," according to Isaacson. The author recalled seeing the flipside of that anger when an image on his iPhone triggered a happy memory of his wife, which moved him to tears.
The author also delved into Jobs' tangled relationship with his biological parents -- and the extraordinary stories of how he discovered who they were. Adopted as an infant, he frequently said in his youth there was "something missing in me" because he didn't know his biological mother's identity.
Jobs learned who his mother was only after he received a posthumous confession from the doctor who signed his birth certificate. The doctor had originally lied to Jobs and said he couldn't help him.
Isaacson also discussed the cosmic coincidence of how Jobs unwittingly met his father, who turned out to be the owner of a restaurant Jobs had patronized in Cupertino. He paraphrased Jobs' dumbfounded reaction: "That balding Syrian guy, that was my father?"
Originally scheduled for release in early 2012, Isaacson's eponymous bio of the Apple (AAPL, Fortune 500) co-founder was rushed to market following his death from pancreatic cancer earlier this month. The 656-page tome is currently number one on Amazon's (AMZN, Fortune 500) bestseller list.