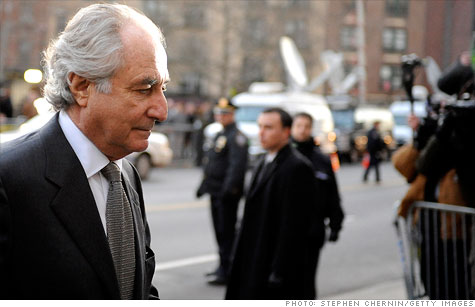 Bernard Madoff is currently serving a 150-year prison sentence for masterminding the largest Ponzi scheme in U.S. history.
NEW YORK (CNNMoney) -- Ruth Madoff says she and her husband attempted suicide as public outrage mounted over Bernard Madoff's infamous $50 billion Ponzi scheme, the largest in U.S. history.
In an interview with CBS's 60 Minutes set to be broadcast on Sunday, Ruth Madoff said she and her husband attempted to overdose on a combination of pills including the sleep aid Ambien.

"I don't know whose idea it was, but we decided to kill ourselves because it was so horrendous what was happening," she said, according to a partial transcript from CBS. "We had terrible phone calls. Hate mail, just beyond anything and I said '...I just can't go on anymore.'"

"I took what we had, he took more," she added. "We took pills and woke up the next day....It was very impulsive and I am glad we woke up."
Bernard Madoff was arrested in December of 2008 and pleaded guilty three months later to running the largest pyramid-style scheme in history, receiving a 150-year prison sentence.
Ruth said the couple's suicide attempt came on Christmas Eve, which "added to the whole depression".
In December of last year, the Madoffs' son, Mark Madoff, was found dead after hanging himself in his SoHo apartment.
He, his mother, and other family members had been subject to a tidal wave of civil actions accusing them of profiting off the Ponzi scheme by withdrawing more money from Madoff's fund than they invested.
Following her husband's sentencing, Ruth Madoff said in a statement that she was "embarrassed and ashamed" of her husband's actions.

"The man who committed this horrible fraud is not the man whom I have known for all these years," she said.
Sunday's broadcast will mark what CBS said is the first interview Ruth Madoff has given about her husband's crimes.