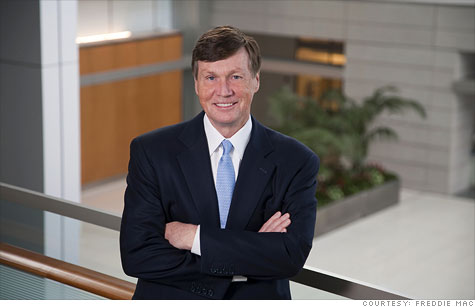 Ed Haldeman has announced plans to step down as CEO of Freddie Mac.
NEW YORK (CNNMoney) -- The chief executive of mortgage finance giant Freddie Mac will step down during the coming year, the latest blow to the troubled government-backed firm.
The Federal Housing Finance Agency, which regulates Freddie Mac and its sister company, Fannie Mae, said in a statement Wednesday that Freddie Mac CEO Charles E. "Ed" Haldeman Jr. "recently informed the board of his desire to step down some time in the coming year."
The FHFA did not offer an explanation for Haldeman's departure. FHFA acting director Edward DeMarco said only that Haldeman "has brought strong leadership to Freddie Mac," and that a search for a new CEO would be underway shortly.
"I appreciate [Haldeman's] commitment to leadership stability during the upcoming transition," DeMarco added.
Haldeman took over Freddie in 2009 from David Moffett. Moffett had replaced Richard Syron as CEO in September 2008, when Fannie and Freddie were seized by the government at the height of the financial crisis.
Three other Freddie Mac board members will also be stepping down shortly, the FHFA said, two of whom having reached the company's mandatory retirement age.
Since 2008, Fannie and Freddie have cost taxpayers $141 billion because the federal government has poured money into them in an effort to stabilize the housing market.

Together with Ginnie Mae, the firms guarantee more than 80% of the nation's mortgages.

Last month, the FHFA filed lawsuits against 17 financial institutions, including Bank of America (BAC, Fortune 500) and Goldman Sachs (GS, Fortune 500), in an attempt to recover billions of dollars in losses from risky mortgage investments by Fannie and Freddie.