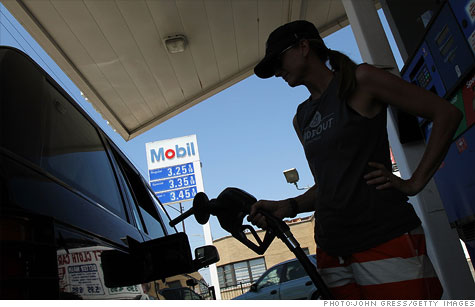 Exxon Mobil reported a 41% increase in net income for the third quarter, compared to last year.
NEW YORK (CNNMoney) -- Exxon Mobil reported quarterly earnings of $10.3 billion on Thursday, a surge of 41% from a year earlier.
Why? Higher prices for oil and natural gas.
Profit at the oil company soared compared to the same period a year ago, when it was $7.4 billion. Per-share income climbed to $2.13 per share from $1.44 in the prior year.
And revenue rose to $125.3 billion from $95.3 billion in the year-ago quarter, the company said.
Exxon's (XOM, Fortune 500) stock rose 3% in early trading, but then flattened.
Oil industry competitors also saw stock gains. Chevron Corp (CVX, Fortune 500). rose 2%, while BP PLC (BP) rose less than 1%. Royal Dutch Shell (RDSA) rose less than 1%and Total SA (TOT) jumped 4%.
Exxon's strong performance was still well below its profit of $14.83 billion in the third quarter of 2008. That's a corporate record for quarterly profits.
Today, Exxon's profits are on track to do even better in the fourth quarter, since oil prices have increased more than 13% over the last month.
Oil prices have been volatile, dropping precipitously during the summer. But over the last year, prices have managed an increase of 13%, largely because of increases in October and September.
Exxon was once the oil industry's leading company, until it was overtaken by Shell last year.
Chevron is scheduled to report third-quarter earnings on Friday. The company is expected to announce revenues of nearly $70 billion, an increase of 40% from a year ago, and net income of $6.7 billion.