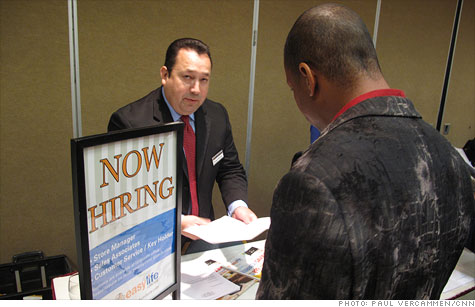 NEW YORK (CNNMoney) -- Fewer Americans filed for unemployment claims last week, but the slight drop wasn't enough to signal improvement in the job market.
About 402,000 people filed for their first week of unemployment claims in the week ended Oct. 22, the Labor Department said Thursday. And that's just the newcomers to the unemployment rolls.
Another 3.6 million people filed for their second week or more of benefits in the week ending Oct. 15, the most recent data available.
Both those numbers have come down recently, but the improvements are so slight, they're not all that encouraging.
"It's consistent with this crawl, then stagger, then crawl recovery we've been going through," said Paul Ballew, chief economist at Nationwide. "We'll take the last two months as comforting that we're not seeing further erosion in unemployment claims, but it's still not robust either."
Initial claims were barely improved from the week before, when 404,000 filed for new unemployment benefits. Economists often look to see weekly initial claims fall below 400,000 to signal a lower unemployment rate, but new claims have been stuck at around or above that level since April.
Meanwhile, continuing claims have bounced around in the last few months, sometimes falling one week, then heading higher again the next.
Even the four-week moving averages, which economists use to smooth out volatility, have also bounced around. Given those trends, many are predicting the unemployment rate remained at 9.1% in October for the fourth straight month in a row.
The unemployment claims report comes on the same day as the government's first assessment on third-quarter economic growth. According to that report, gross domestic product -- the broadest measure of economic activity -- picked up 2.5% in the three months ending in September. That's a significant improvement over sluggish 1.3% growth in the second quarter and 0.4% growth in the first.
Still though, it has not translated into consistent job gains.
"This sluggish growth is the root cause of the stubbornly high unemployment rate we've seen over that time," Josh Bivens, economist at the Economic Policy Institute said in a research note.