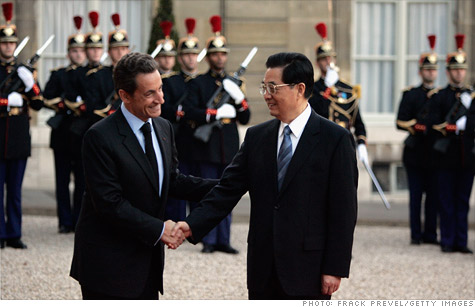 French president Nicolas Sarkozy and Chinese president Hu Jintao may have to do more than shake hands. Europe wants (and needs) China to invest in the EFSF bailout fund.
NEW YORK (CNNMoney) -- New dad Nicolas Sarkozy is apparently hoping for a great baby gift from China president Hu Jintao. A couple of hundred billion euro or so should do.
With Sarkozy and other European leaders finally reaching a deal to cut Greece's debt load, bolster the broader EU bailout fund and recapitalize the continent's banks, attention now turns to just who will pay for much of the plan.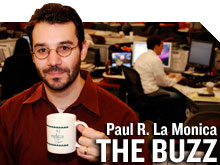 Once again, the world is hoping China will come to the rescue.
One of the most tantalizing parts of Europe's latest proposal is the creation of a special investment vehicle that would allow sovereign wealth funds to invest in the European Financial Stability Facility (EFSF) bailout fund.
Sarkozy had a phone conversation with Hu after the debt deal was reached in Brussels early Thursday morning. I'm guessing they weren't sharing war stories about late night changes of poopie diapers.
According to a report from Chinese news agency Xinhua, the two leaders spoke about more ways to work together to promote global growth. But there was no mention of China being asked to buy EFSF debt.
Still, it looks like Sarkozy won't be the only European official making a pitch to China for much-needed funding. Klaus Regling, the CEO of the EFSF, is said to be planning a trip to China (and possibly Japan as well) in the next few days to meet with potential investors.
The push to get Asian central banks to invest more in Europe makes perfect sense. For one, the EU is a key export market for both China and Japan. It is not in the best interests of either nation to let Europe sink even deeper into an economic morass.
Japan, and to a lesser extent China, have also already invested in the EFSF. According to figures from the EFSF, Japan owns about 20% of the bonds issued by the EFSF so far. There are no specific figures for China but "Asia-ex Japan" nations are listed as sizeable investors in various EFSF issues as well.
So making further investments may be merely a case of being in for a penny and in for a pound. Or euro if you will.
The EFSF may also be a compelling alternative to U.S. Treasuries. China and Japan are the two largest foreign holders of Uncle Sam's debt, owning $1.14 trillion and $937 billion in Treasury bonds respectively.
China has made no secret of its irritation with the U.S. regarding the debt ceiling drama in Congress this summer and how that has impacted China's investments. China also can't be thrilled that the Fed's two rounds of quantitative easing and Operation Twist have left interest rates near historic lows.
And the EFSF bonds have the Triple A stamp of approval from all the major credit rating agencies -- unlike the U.S.
Still, experts said it's not a given that China (or other sovereign wealth funds) will make a big bet on the EFSF.
"This is a big question mark going forward. It's probably likely that China and others will participate, but it's not definite. There is some skepticism," said Anthony Valeri, fixed income investment strategist with LPL Financial in San Diego.
Valeri said that while China does complain about the many fiscal challenges facing the U.S., China realizes that no matter what Standard & Poor's might say, Treasuries are still a better horse to bet on than European bonds.
"China will need a lot of convincing that EFSF bonds are an attractive option for them. At the end of the day, Treasuries may still suit their needs as a safe haven investment," he said.
And China and other sovereign wealth funds have complicated objectives, added Bhaskar Chakravorti, senior associate dean of International Business and Finance at The Fletcher School at Tufts University. They have political interests as well as financial motives. That could make negotiations difficult.
"The road to a beautiful end game in Europe is paved with potholes. The Chinese will still probably be quite cautious and demand a lot both economically and politically," said Chakravorti. "I'm sure that Germany will not be thrilled about that."
But Lionel Mellul, co-partner with Momentum Trading Partners, an independent broker-dealer in New York, thinks China eventually will make an investment.
Still, he doesn't think that this is necessarily great news. Mellul argues that it's a sign of how desperate Europe is and how nervous leaders are about the possibility that Italy and Spain may also need bailouts like Greece, Portugal and Ireland did.
"It just goes to show how bad the situation is in Europe that they are forced to try and strike a deal with China. Europe needs Asian participation for this to work," he said.
And that means that China and other potential investors have the bargaining leverage. Mellul said China could make any EFSF purchases contingent on more favorable trade deals, for example.
"China will probably participate, but the question is at what cost?" he said.
CNN's Jaime FlorCruz in Beijing contributed to this story.
The opinions expressed in this commentary are solely those of Paul R. La Monica. Other than Time Warner, the parent of CNNMoney, and Abbott Laboratories, La Monica does not own positions in any individual stocks.