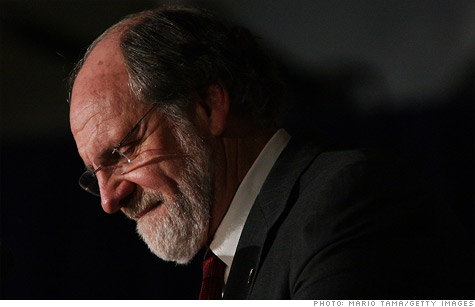 MF Global, the company led by former New Jersey governor Jon Corzine, filed for bankruptcy Monday.
NEW YORK (CNNMoney) -- MF Global, a trader in commodities and derivatives brought down by bad bets on Europe, filed for bankruptcy protection on Monday, leaving behind more than $2 billion in debt to some of Wall Street's biggest players.
The fate of MF Global, run by former New Jersey Gov. Jon Corzine, has been closely watched on Wall Street as a sign of how Europe's sovereign debt crisis could be cause trouble for U.S. financial companies. (MF Global: Sorting through the debacle.)
MF Global was among firms that were forced to take write-offs as part of last week's deal to resolve the debt crisis in Europe.
The firm filed for Chapter 11 protection in U.S. Bankruptcy Court in the Southern District of New York.
The largest unsecured creditors owed money by MF Global are JPMorgan Chase (JPM, Fortune 500), with more than $1.2 billion in corporate bonds, and Deutsche Bank (DB), with $1 billion in bonds, according to court documents.
JPMorgan's stock fell more than 3% and Deutsche Bank plunged nearly 10%.
Those two firms hold the vast majority of MF Global's debt. An additional $10 million is divided among 45 other creditors, including American Express, (AXP, Fortune 500) KPMG and PricewaterhouseCoopers.
Trading in MF Global (MF) was halted on the New York Stock Exchange prior to the filing. The Federal Reserve Bank of New York suspended MF Global from conducting business with the Fed.
Shares of MF Global fell 16% Friday to $1.20. Shares have fallen more than 85% so far this year.
MF Global had until Monday to find a buyer or file for bankruptcy. According to The Wall Street Journal, a deal to sell many of its assets to Interactive Brokers (IBKR) as part of a bankruptcy filing package has been called off.
A spokeswoman for Interactive Brokers declined comment to CNNMoney as to whether the company is pursuing a post-bankruptcy deal.
For Corzine, the failure of MF Global is the latest chapter in a long career that began as a Marine Corps reservist in 1969.
From there, he moved into finance and eventually politics, then back to finance. Corzine, in addition to serving as a governor and U.S. senator from New Jersey, is a former chief executive at Goldman Sachs (GS, Fortune 500).
He started working as a bond trader for Goldman in 1975. Five years later he was named a partner and by 1994 he was CEO, a position he held for five years.
Corzine left the corporate world for politics in 2000, when he was elected to the U.S. Senate. Five years later, he was elected governor of the Garden State, a position he held until early 2010.
He ran for re-election in 2009 but was defeated by Chris Christie. On March 23, 2010, he was hired as CEO at MF Global and has held the top job ever since.