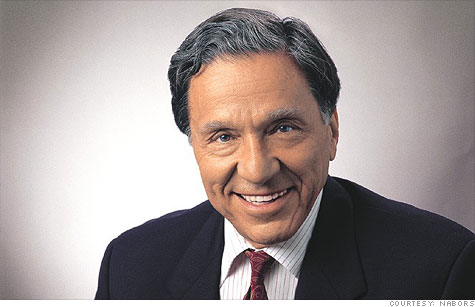 Eugene Isenberg, CEO of the Nabors Industries oil and gas firm, will receive $100 million.
NEW YORK (CNNMoney) -- Nabors Industries CEO Eugene Isenberg is stepping down, and he's taking $100 million with him.
The 81-year-old Isenberg will be replaced as CEO of the oil and gas drilling firm by Nabors (NBR) President Anthony Petrello but will remain as the firm's chairman of the board.
According to an April SEC filing, Isenberg is contractually entitled to a $100 million payment in the event that he is fired or that the firm otherwise makes a change in control.
Isenberg, or presumably his estate, would have been paid the money even in the event of his death.
News of the payout was first reported by the Wall Street Journal.
Brian Uhlmer, senior oil service analyst at Global Hunter Securities, called Isenberg's payout "obviously a negative for shareholders."
"The man obviously doesn't need the money and he's already been compensated for all of the work that he's done there," Uhlmer said.
"This is an unnecessary expense in my mind, but there's no way around it," Uhlmer added. "The board was not going to be able to push him out of the position without the payment."
In a non-binding vote at the Nabors annual meeting earlier this year, 57% of shareholders who voted came out against the compensation packages for Nabors executives, according to a June SEC filing.
Isenberg took over Nabors as it emerged from bankruptcy in 1987 and showed "extraordinary leadership" in leading it to profitability, the firm said in a statement Friday, though it did not offer a reason for his departure.
Since the start of this year, Nabors' share price is down 20%. That's a steeper decline than its rivals: Schlumberger's (SLB) stock is down around 11% so far this year, while Halliburton (HAL, Fortune 500) is down 8% and Anadarko (APC, Fortune 500) is up 5%.
Shares of Nabors were down 2.9% in trading on Monday afternoon.
In 2009, Isenberg was ranked on CNNMoney's list of the "5 most overpaid CEOs" after earning $79.3 million in compensation the previous year and more than $600 million over his career.
Correction: An earlier version of this story incorrectly stated that Nabors announced the executive change on Monday.