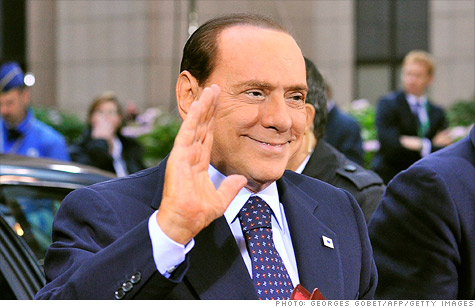 As Italian interest rates climb higher and higher, some financial experts wonder if the government of Prime Minister Silvio Berlusconi can survive the debt crisis.
NEW YORK (CNNMoney) -- European leaders may have "saved" Greece last week but investors are now worried about an even bigger problem: Italy.
Despite the fact that Europe plans to bolster its bailout fund -- the European Financial Stability Facility -- to the tune of about €1 trillion, the market doesn't believe that will be enough to help Italy if its debt crisis deepens.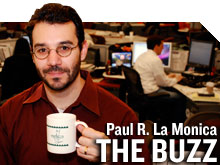 How do we know? The proof is in the pudding ... or zuppa inglese in this case. Just look at the Italian bond market. The yield on the benchmark Italian 10-year bond was 6.1% Monday following a disappointing auction for Italian bonds on Friday.
That's troublesome since the 6% level is viewed as an important psychological barrier. If yields stay north of 6%, that may make it tougher for Italy to find buyers for new debt issuances.
The yield on Italian bonds was as low as 5.41% in early October when the global markets first started to become enthralled by the notion the worst was over in Europe.
Even as recently as last Wednesday -- the day before the deal that will allow Greece to cut its debt burden was reached -- the yield was 5.87%.
This is not, as my ancestors would say, "Va bene!" The skepticism about whether the levered up EFSF can rescue Italy shows that the problems in Europe are not over by a long shot.
"Greece may garner the headlines but it only really matters because of what it symbolizes," said Steve Blitz, senior economist for ITG Investment Research in New York. "People need to be worried about Italy. It's always been the issue because it's such a big bond market."
For that reason, investors should be nervous. Lenders to Greece were obviously not thrilled by the 50% write-down on Greek debt that they agreed to last week.
But it's one thing to do that with something as small as Greece. A haircut of that magnitude is impossible with Italy. That's probably one reason why leading Italian banks are getting hit hard too.
Shares of UniCredit, the largest bank in Italy, sunk more than 4% on Friday in Milan and were down nearly another 6% Monday. Intesa, the second-largest Italian bank, slipped 7% Monday, while Mediobanca, Italy's third-largest financial institution, fell about 4%.
"While people are applauding the 50% haircut bondholders took on Greece, nobody can afford to voluntarily do that with Italy," said Jeff Sica, president and chief investment officer of SICA Wealth Management in Morristown, N.J.
"You don't need to be a serious economist to look at Italy and realize that its debt is compounding at an alarming rate," Sica added.
Part of the problem is that last week's debt deal did not go far enough. It's a step in the right direction, but it passes the buck to emerging markets.
The hope is that China and other sovereign wealth fund will invest in new special vehicles that will allow the EFSF to add leverage to increase the amount of funding available.
Without the help of China, Brazil, Russia and others, Europe is back where it started. And it still seems clear that the stronger northern European nations aren't keen on the idea of a full bailout of their southern siblings.
"The deal doesn't address any of the fundamental economic issues," said Blitz. "There was no backstop on Italy because there is a reluctance on the part of Germany and others to bail out a country that's not doing enough to reform."
Reform is key. But while some criticize the government of Silvio Berlusconi for not taking necessary steps to get growth back on track, others argue that the fear of the unknown (i.e. who could replace Berlusconi if he's forced out) is also adding to pressure on Italian bond yields.
"There is a lot of political uncertainty. The Berlusconi administration seems to be increasingly fragile," said Laura Sarlo, senior sovereign debt analyst with Loomis Sayles in Boston. "The prospect of early elections and a change in leadership in the next three to six months is out there."
But Sarlo said the biggest challenge facing Italy and other European nations is not politics. It's that their economies are not expanding quickly enough to make much of a dent on their bloated balance sheets.
"Even if interest rates come down a lot, Italy still has a high debt load," Sarlo said. "It would be difficult to finance that even at rates of 4% to 4.5% if Italy can only manage nominal growth."
With that in mind, Sarlo said she's still worried about Spain as well -- even though some investors are starting to ignore it due to the worries about Italy.
"For the most part, people have been giving Spain a free pass and focusing on Italy," she said. "But house prices are sliding again in Spain and even though banks there are getting fixed, they're not completely healthy yet."
The opinions expressed in this commentary are solely those of Paul R. La Monica. Other than Time Warner, the parent of CNNMoney, and Abbott Laboratories, La Monica does not own positions in any individual stocks.