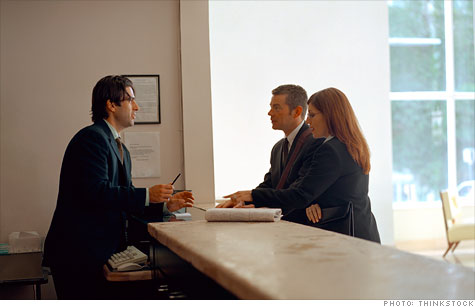 NEW YORK (CNNMoney) -- Thinking of taking a dip in the pool while on vacation? Even if you choose not to, you could get charged $40 just for having the option.
Following in the footsteps of the airlines, hotels are piling on a slew of hidden fees for services that used to be free. Now guests are getting charged for everything from access to a gym (or a pool), to early check-ins or departures to holding your luggage.
All of those fees really add up. Total fees and surcharges collected by hotels in the U.S. are projected to hit a record $1.8 billion this year, up 80% from a decade ago, according to a recent study by Bjorn Hanson, dean of New York University's Preston Robert Tisch Center for Hospitality, Tourism and Sports Management.
"People that travel once or twice a year are often surprised [by hotel fees]," he said.
Guests checking into the Quality Inn & Suites in Surprise, Ariz., for example, probably wouldn't expect to see a $1.50 "Safe Warranty" fee for use of the safe already in the room. The hotel introduced that fee this summer, according to the general manager of the property.
Stashing your bags for a few hours after checking out of the Hilton in New York will cost $3.50 - that's what's called the "luggage holding fee." Hungry? Think twice about grabbing a bag of pretzels from the minibar. Mini-bar restocking fees can run up to $10 at hotels like the Adolphus Hotel in Dallas, in addition to the hefty price of the snack.
And before you pull out your wallet to provide a tip to the bellhop for bringing up your bags or to housekeeping for making your bed, most spots have already charged you a generous gratuity for their service, just like they have done for years with room service.
It's also increasingly common to pay $10 to $20 per day for Wi-Fi access, as well as pay a fee for making local calls or even receiving a fax. And you can expect to pony up anywhere from $15 to $50 a night if you want to bring a pet (that is, if the hotel allows pets) and $10 or more a night for a rollaway bed.
That's on top of a host of other fees that have become standard, like reservation cancellation fees, which can be as much as the room rate, or a resort amenity fee, which can add a significant amount to your daily tab. At the Ritz-Carlton in Laguna Niguel, Calif. guests are charged $60 a night for the privilege of using the gym and parking on the premises.
The pricier the hotel, often the heftier the fees, said Steven Mogck, executive vice president and chief operating officer of Midscale Brands by Carlson Hotels.
For hotels, all those charges add up to nearly pure profit, Hanson said. "Most have incremental profitability of 80% to 90% or more," he said.
The "surcharging fad" took off after September 11 and got worse throughout the recession as Americans reeled in their travel plans and hotels saw a sharp decline in revenue, explained Mogck. In addition, the rising price of food and fuel has put added pressure on most hotels' bottom line.
Online price comparison sites haven't helped either, said Chris McGinnis, Best Western's business travel editor. "The reason fees have gone up is because of the ability to compare rates," he said. "You always want to have the lowest rate available online, so you won't include certain things like parking, Wi-Fi or breakfast. The airlines have done the same thing."
But unlike the airlines, hotel fees and surcharges are often harder for travelers to keep track of because they often vary hotel, not by brand, said Hanson.
To avoid getting taken for a ride, look for hotels that include the amenities you care about, whether that's breakfast, high-speed Internet or access to the gym, as part of the nightly rate, said Mogck.
If it's unclear, Hanson suggests calling ahead to ask about what kind of charges could be tacked on to your room. Then, make a note of the reservationist's claim and confirm again at checkout.