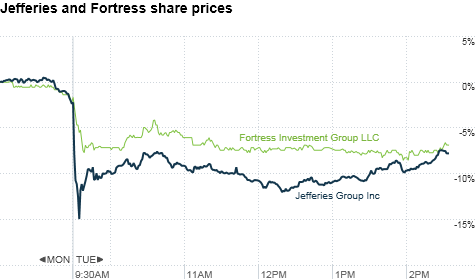 Shares of Jefferies and Fortress crater on fears of MF Global contagion.
NEW YORK (CNNMoney) -- MF Global is no Lehman Brothers. It doesn't have the size or the tentacles to put the entire global system at risk.
Still, MF Global's Chapter 11 filing is spreading contagion to other financial firms around Wall Street, helping crater the stocks of companies with big trading desks like Jefferies and Fortress Investment Group.
MF Global's fall from grace also puts the spotlight on the one thing that's missing this time around: white knights and several of them.
Back in 2008, troubled financial institutions Lehman Brothers, Merrill Lynch, Washington Mutual, and Wachovia all found willing buyers in Barclays, Bank of America (BAC, Fortune 500), JPMorgan Chase (JPM, Fortune 500) and Wells Fargo. (WFC, Fortune 500) But the market isn't happy with any of these firms these days.
"Volunteers have been punished," said James Doak, who runs restructuring firm Miller Buckfire's banking practice.
After saving the too big to fail institutions, the major U.S. and global banks are, if anything, in shrinkage mode.
"I don't see a lot of bank CEOs who are daring to be great," said John Roddy, the head of the US financial institutions group at the Australian bank Macquarie.
In contrast, smaller distressed players might fare better. BB&T (BBT, Fortune 500) announced Tuesday morning that it planned to buy most of the assets of troubled Florida bank BankAtlantic (BBX), which has just $5 billion in assets compared with MF Global's $40 billion.
MF Global CEO Jon Corzine, an alumnus of Goldman Sachs (GS, Fortune 500) and New Jersey's top political slots, reportedly called nearly every CEO on Wall Street to find a potential buyer. Many on Wall Street now think that MF Global is likely to liquidate rather than reorganize or sell itself in pieces.
Few buyers means that more financial firms could potentially evaporate quickly. "This might get us to where we need to be, which is a less levered, more conservative financial sector that will be less aggressive but will almost certainly have less employment and create less growth," said Doak.
The speed of MF Global's downfall illustrates just how quickly seemingly healthy financial institutions can crumble once fear feeds on itself. It took less than a week for MF Global to declare bankruptcy after it announced its exposure to European sovereign debt in an earnings call.
Several ratings agencies downgraded the firm, which forced it to post more collateral to conduct its trading in oil and other commodities. As that happened, other firms reportedly stopped trading with it.
Following MF Global's expeditious fall, investors are now attempting to divine who is next. Financial firms with large trading platforms considered "too small to save," or ones where the government would be less likely to step in were hit the hardest in Tuesday's trading.
Shares of Jefferies & Co. (JEF), which has recently expanded its bond trading activities, dropped 7.5%.
Earlier Tuesday the bank issued a statement saying it has "no meaningful exposure to the sovereign debt of the nations of Portugal, Italy, Ireland, Greece and Spain." Just a day earlier, Jefferies also said it had minimal exposure to MF Global.
Meanwhile shares of Fortress Investment Group (FIG) also dropped nearly 6%, as investors worried about whether it could face risks similar to MF Global. "Fortress has no financial exposures to MF Global," said the firm's managing director Gordon Runde. Fortress will be reporting quarterly earnings on Thursday and declined to comment further ahead its call with analysts.
"There are lots of ways banks can get into trouble and that's one of the reasons for skittishness in the market," said Jim Kaplan, the chair of DLA Piper's midwest banking practice. "You just don't know, and it's not that transparent."