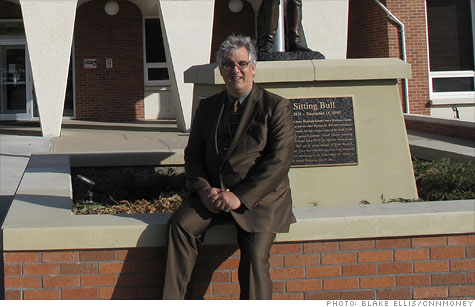 "At some point [students] decide, 'Well, college will always be here ... but the oil boom won't,'" says Jim Stout, an English professor at Williston State College in North Dakota.
WILLISTON, N.D. (CNNMoney) -- Jim Stout, an English professor at Williston State College in Williston N.D., started losing some of his best students to the oil fields last year.
It was too hard to compete: The students could either spend thousands of dollars on a college education or earn $100,000 a year working on the rigs, performing maintenance on oil wells or driving trucks.
"At some point they decide, 'Well, college will always be here ... but the oil boom won't,'" he said.
One engineering student dropped out of college last winter to take a job boiling the water used in hydraulic fracturing. In just two weeks, he made $5,000, according to Lance Olson, a science instructor at the college.
While some students leave the college altogether, others take the bare minimum of courses necessary in order to qualify for campus housing and still be able to work. So class time often comes second to their day jobs.
"One of my students working in the oilfields habitually came in late, and started to fall asleep in class," said Stout. "I asked him what was going on, and he said, 'I'm putting in 90 hours a week because the overtime pays so well ... to be honest with you, I'll get what you cover from my friends in class, but don't count on me staying awake or getting to class on time.'"
Only about one-third of Williston State College students graduated from the two-year associate's degree program last year, said Mike Hillman, vice chancellor for academic and student affairs with the North Dakota University System. That rate has stayed around 35% to 40% for the past few years, but Hillman said he expects it to plunge even lower this school year as students exit early for jobs.
"A lot of students are getting a few credits they need -- like one or two welding courses -- and entering the labor market," said Hillman.
A student body in flux
As the latest class drops out to pursue big money on the rigs, there's a new wave of students enrolling in Williston State. In fact, enrollment has hit a record 993 full-time and part-time students, a 6.5% increase from 2009.
With so many new workers flocking to Williston for jobs at the oilfields, these new students realize that getting a two-year degree in petroleum production, welding or diesel technology (all areas of study offered at Williston State) could help them get to the top of the oil industry pecking order and qualify for the best-paying jobs, he said.
But there may be another reason Williston's enrollment is starting to grow: housing.
With thousands of workers flocking to Williston looking to cash in on the oil boom, there's a severe housing shortage in the area. And any rooms and apartments that are available are extremely expensive -- except if you live at Williston State where family housing runs about $715 a month and single or shared rooms cost $1,750 a semester.
But even Williston's campus isn't big enough to handle the influx of students. The biggest classroom is made to fit 40 people, but now they are squeezing 50 students into them, said Stout. Classes are even taking place in closets, he said.
Professors reaching the 'breaking point'
And as the classes grow more crowded there's another challenge that's popping up: The oil fields are taking some of the college's professors and staffers, too.
Since spring of 2010, Williston State has had a 25% employee turnover rate. Recently, two diesel technology instructors were among a handful of teachers who quit to take higher-paying oilfield-related jobs, said Stout.
Hiring new teachers -- or any other school employees -- is extremely difficult, because of the housing crisis.
"We've had people offered faculty positions turn them down because of the cost of living," Stout said. "I'm one rent raise away from having to leave."
Some of Stout's students have been trying to convince him to work for one of the oil companies -- the last offer was to drive a truck 12 to 18 hours a day and get paid nearly $100,000 to start. Stout admits he's been tempted to make the switch: The lure of doubling his $56,000 a year salary is hard to resist.
Yet, Stout said his "call is to teach," and that's what he'll do -- whether it's in Williston or somewhere where it's more affordable to live.
And as hard as Stout tries to stick it out in North Dakota and change students' lives with his teaching, he may be forced to give up on college, too.
"I love the people and I love the job ... And those of us that leave have to go back into the rest of the world where the economy is not booming, and that's a challenge," he said. "But I'm reaching the breaking point."
Correction: An earlier version of this story implied that students could spend $100,000 on tuition at Williston State. Tuition at the school is much more affordable.