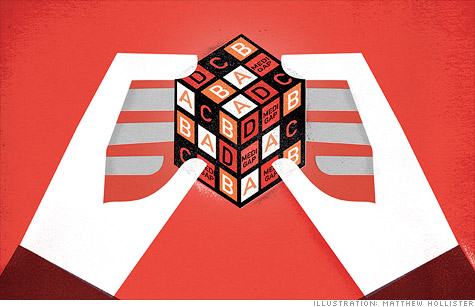 Medicare plans: Solving the health care puzzle
(MONEY Magazine) -- Thanks to Medicare, there's at least one thing you don't have to worry about in retirement: whether you'll have health insurance. How you'll get it, on the other hand, is another matter.
Health coverage for seniors is a complex system made up of different kinds of insurance, some private, some public -- you could easily end up in as many as four programs. And it's not getting any simpler to manage.
Employers are pulling back on providing retiree benefits, and some are offering coverage in entirely new ways. Privately run Medicare Advantage plans now operate under tighter rules because of health care reform, and supplemental Medigap plans may be in for changes soon too. Meanwhile, Medicare's prescription drug benefit has actually gotten better -- but its layers of deductibles, co-insurance, and coverage "doughnut holes" are as baffling as ever.
"I have callers who say, 'I'm a Ph.D., and I can't figure this out,' " says Norma Almanza, who talks beneficiaries through their Medicare options for a government-funded help line in Texas.
Whether you're 65 and brand-new to Medicare, about to wade through your choices in another open enrollment (which is earlier than usual this year, from Oct. 15 to Dec. 7), or helping a parent navigate the system, you could really use a map. And that's exactly how you can use this story, part of MONEY's continuing series on Medicare.
Read on to see how each type of retiree health coverage works, and how each is changing.
TRADITIONAL MEDICARE: Premiums are creeping up
Two programs, Medicare Part A to cover hospital bills, and Part B to cover doctors and other services, make up what's often called traditional or original Medicare. Only B charges a premium, now $96 a month for most beneficiaries (or $115 for new beneficiaries).
The coverage is flexible -- most doctors and hospitals take Medicare -- but it's full of holes. Prescriptions aren't covered, and you face a $1,132 deductible on hospital bills (and that's not annually but per episode of care). For doctors' bills, you pay 20% of the bill. Surgery, like a hip replacement, could easily leave you on the hook for more than $2,000. Worse, there's no annual limit on how high costs can go.
So you'll definitely want to top off your protection with a plan that either sits alongside Parts A and B, such as drug coverage, retiree benefits or a private Medigap policy, or with a Medicare Advantage plan that replaces them altogether.
What's changing
Part B premiums are headed up for the first time since 2009. Such hikes used to be routine, but most beneficiaries have been sheltered because of a law that prevents their premiums from rising if Social Security's cost-of-living adjustment isn't enough to cover the bump-up. Low inflation has prevented that lately, but for 2012 the government estimates that premiums will rise to $100.
An increasing number of affluent people are being hit with larger premiums. Couples earning more than $170,000 (and singles topping $85,000) pay from $162 to $369 a month this year. Right now just 5% of beneficiaries make that much. The health reform law froze those income thresholds; since they aren't being adjusted for inflation, the rule will probably capture 14% of retirees by 2019, says the nonprofit Kaiser Family Foundation.
MEDICARE ADVANTAGE: Under pressure but working
Medicare Part C, also known as Medicare Advantage, is a system of private plans that you can choose instead of Parts A and B. (You can't combine them all.)
Many add benefits such as vision and dental, and most cover prescriptions. They also set an annual cap of $6,700 on out-of-pocket costs -- something traditional Medicare doesn't do. The most popular Advantage plans cover doctor and hospital services and then throw in drug benefits, all for the same total premium as Part B. Others have a higher monthly bill but lower deductibles and co-insurance.
The catch? The first one is that Advantage plans have provider networks. You may not be allowed to get care outside the network, or you may have to pay higher costs if you do.
Advantage networks are regional, so people who expect to spend part of the year away from home are usually better off choosing traditional Medicare. (It's not uncommon for seniors after an operation or if they've been sick to stay with the kids for a while.) Also, be aware that the network rules could keep you from seeing a top specialist outside your local area.
If staying in network isn't a problem, the best way to check out Advantage plans is to call your regular doctor and specialists to find out which ones they accept. Ask for their opinion of each plan. "The doctor's office will know how much time they spend fighting with the plan to cover a particular service," says Mary Ashkar of the Center for Medicare Advocacy. Then use the Plan Finder tool at Medicare.gov to compare those options.
Don't just look for the cheapest premium or bells and whistles like vision coverage. Advantage insurers, like traditional Medicare, ask you to pay some costs out of pocket, but they may structure the charges differently. For example, some charge a higher co-insurance rate for primary care visits or equipment like wheelchairs. Advantage plans also vary considerably from one another -- for a five-day hospital stay, some charge zero, others $3,000, found Kaiser.
While Plan Finder and insurers' websites have much on what's covered and what's not, don't rely on them exclusively, advises Bonnie Burns of California Health Advocates -- there can be discrepancies. Call the insurer to confirm details; a counselor from your State Health Insurance Assistance Program (shiptalk.org) can help you figure out the right questions to ask.
What's changing
Although Advantage plans are run by private insurers, they are heavily subsidized by the government. Last year, Congress decided to scale back what it pays, leading some to predict a squeeze on beneficiaries. So far it hasn't happened: Most people still have a choice of about 25 plans in their area, and premiums have actually dipped a bit. Yet further cuts in subsidies are scheduled, so Advantage could be less generous in the not-so-distant future.
Fortunately, going on Advantage isn't an all-or-nothing decision. Although you generally have to stick with a plan for 12 months, you can switch plans or go back to original Medicare in the annual open enrollment.
One important exception to this flexibility: You can't use Advantage and a supplemental Medigap plan at the same time. If you drop a Medigap plan or don't sign up for one soon after joining Part B because you want to try Advantage, you may not be able to get the same deal later. (More on this rule in the Medigap section.)
RETIREE BENEFITS: Employers want out
About a third of Medicare users get their supplemental benefits from their former employer's retiree health plan. For them, Medicare used to be a no-brainer: Sign up for A and B, and use the company insurance to pay for drugs and help cover the out-of-pocket costs. (Plans typically put a yearly cap on costs, like Advantage does.)
Most people who have this option take it. But with health care costs rising fast and Medicare now offering a drug option, firms are less paternalistic. This choice isn't as simple as it used to be.
What's changing
Watch for your company plan to make one of these moves.
Jacking up premiums. Retiree health plans have been routinely rising by 5% to 10% or more. That may tempt you to drop coverage, but it's a risky move.
You'll be giving up what your company contributes to your premium, and may find it hard to get coverage as complete for a similar price. Plus, "the retiree plans usually don't object to you pulling out, but they don't want to let you back in if you change your mind," says Marc Steinberg, deputy director of health policy at advocacy group Families USA.
Offering a new option. Some retirees are being asked to choose between their traditional coverage and a company Medicare Advantage plan.
The latter can cost you less in total premiums, says John Grosso, a health care actuary at Aon Hewitt. But you have to be sure you can live with the plan's network restrictions. Your out-of-pocket costs when you get drugs or go to the hospital will probably be higher than with traditional retiree coverage. So people who use a lot of care -- or want predictable costs -- may still prefer to pay a higher premium to stay in the old-school plan.
Cashing you out. More and more firms do nothing other than help you pay for your own coverage.
"This is where the market is headed," says Dave Osterndorf, chief health actuary at benefits consultant Towers Watson. Unfortunately, not all firms provide enough cash for you to buy a plan on par with one they used to offer.
PRESCRIPTION COVERAGE: A smaller doughnut hole
Like Advantage, Part D drug plans are managed by private insurers but subsidized by the government. You can combine a Part D program with original Medicare or with an Advantage plan if it doesn't offer prescription coverage.
Monthly costs average $30. You can switch plans each year. When choosing coverage -- start with Medicare.gov's Plan Finder tool -- pay attention to a few potentially expensive details: Is your local pharmacy on the "preferred" list? How about your pills? Does the plan require you to try a less expensive alternative before paying for your current prescription? Are there limits on the quantity of a prescription you can get?
Most plans have a large coverage gap, known as the doughnut hole. You get decent coverage if you spend a little on pills. And you're protected against "catastrophic" costs. In the middle, though, you pay a higher share. You can pay a steeper premium to get more coverage in the hole. Juliette Cubanski of the Kaiser Family Foundation warns, however, that plans that pay for pills in the gap usually limit it to generics, so you may not be better off with more coverage.
What's changing
As with Part B, a growing number of affluent retirees will be subject to higher Part D premiums in the coming years. But the law is also starting to close the doughnut hole: In 2012 you'll owe only 50% of the cost of brand-name pills when you're in the coverage gap, or 86% of the price of generics. You'll get even bigger discounts in later years.
MEDIGAP: More out of pocket?
If you don't have retiree benefits but want to continue to use original Medicare, a private Medigap plan can cover some or all of your deductibles and coinsurance.
A high-end Medigap plan will protect you more than Advantage -- some cover every penny -- but it will also cost more. You'll pay $180 to $450 a month.
Benefits are standardized and coded by letter, so you can compare one insurer's "C" plan to another's. (Pay attention whether premiums can increase with your age.) If you buy a Medigap plan within the first six months of going on Part B, you can't be turned down or charged more because of your health. In most states you lose that protection if you wait or drop Medigap.
What's changing
Two new plans, called M and N, can feature lower premiums but also co-pays or deductibles.
Down the road, more cost sharing may creep into Medigap. Some legislators want to bar plans from picking up the first dollar of your bills, so you'll be more cost-conscious when using Medicare. "The momentum is definitely building to make cuts to Medigap [coverage]," says Burns. But that's one headache you needn't worry about in this year's open enrollment season.