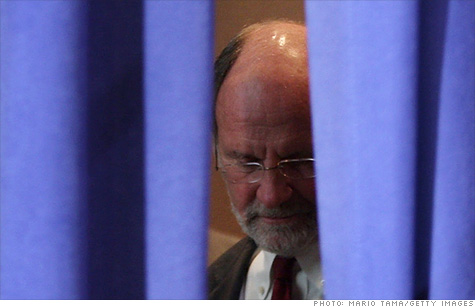 Former New Jersey governor Jon Corzine heads the bankrupt brokerage MF Global.
NEW YORK (CNNMoney) -- A government regulator said in court Wednesday that roughly $600 million is missing from the books of bankrupt brokerage MF Global.

The firm, headed by former New Jersey governor and Goldman Sachs CEO Jon Corzine, filed for Chapter 11 protection on Monday following a panic from investors over its holdings of risky European debt. (MF Global: Sorting through the debacle.)
"MF Global has discovered a shortfall of segregated accounts of around $600 million," a lawyer with the Commodity Futures Trading Commission said, adding that this is a preliminary figure that could increase.

This past weekend, executives at MF Global had been scrambling to sell the firm to Interactive Brokers, but the missing money scuttled the deal and forced it into bankruptcy, regulators said this week.
On Tuesday, Craig Donohue, CEO of CME Group (CME), the operator of the nation's largest commodity exchanges, told analysts that his firm had determined MF Global broke government and CME rules requiring it to keep its customers' funds separate from the firm's assets.
The FBI and federal prosecutors are now investigating how some $600 million of MF Global customers' money went missing, CNN learned Tuesday from sources close to the probe.
In court on Wednesday, a motion by James Giddens, the trustee for MF Global's liquidation, was approved, allowing for the partial transfer of 50,000 commodity accounts at the firm to other brokerages in order to prevent liquidations. The transfers will unfreeze commodity positions with a notional value of $100 billion, the trustee said in a press release Wednesday.
MF Global's trading rights at the Chicago Mercantile Exchange and elsewhere had been suspended, following disclosure of the shortfall and the firm was put on "liquidation only" status.
"The Account Transfers will reduce costs and avoid the disruption, loss of value, and complication of the distribution process attendant to a forced liquidation process," attorneys for the trustee said in the motion.
The missing $600 million represents roughly 11% of the $5.4 billion in segregated accounts at MF Global.
CME Group said in a statement late Wednesday that it "will continue to facilitate the transfer of positions and accounts of customers and affiliates of MF Global, and will also continue to assist the efforts of the CFTC and bankruptcy trustee to recover customer segregated funds held by MF Global."

Government regulators are also working to make sure that any customer funds currently unaccounted for are given priority during the bankruptcy process.
"What we're focusing on now is to make sure those customer accounts are made whole," a federal official with knowledge of the investigation told CNN.
"What we are trying to do is ensure that we get some level of placement in the bankruptcy process."

CNN's Hussein Saddique and Susan Candiotti and CNNMoney's Chris Isidore contributed to this report.