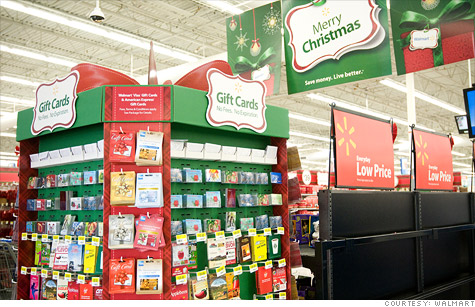 NEW YORK (CNNMoney) -- Wal-Mart is giving shoppers an early look at its Black Friday deals for the first time this year, well before Thanksgiving.
The retailer, which usually waits until the week of Thanksgiving to release its highly anticipated circular, said this year it will offer those customers who sign up at Walmart.com or Facebook.com/Walmart an early preview of its Black Friday deals on an array of electronics, toys, household items and clothing.
Britt Beemer, retail analyst and chairman of America's Research Group, called the move a clever way to figure out who the retail giant's core customers are.
"They might get a half a million or a million people to sign up so it could be a very successful strategy for them," he said.
The company did not say when those previews would begin, but said it "will reveal the specials soon."
The retailer also said it would roll out "Super Saturday" sales at stores nationwide starting at 11 a.m. on Nov. 5.
According to the retailer, Wal-Mart's Super Saturday event will include offerings such as a 42-inch Sanyo LCD TV for $398, marked down from $448; a color Nook e-book reader for $199, down from $249; an Xbox 360 250GB console for $399, plus a $50 gift card; a 10-cup coffee maker for $39; and Transformers Ultimate Optimus Prime for $59.88.
Those deals will be available while supplies last or until midnight Saturday, Wal-Mart (WMT, Fortune 500) said.
To further lure shoppers this season, the retailer announced a holiday price guarantee last week. Wal-Mart said it will offer shoppers a refund on the difference if they find the same product they purchased at a Wal-Mart store advertised for a lower price elsewhere.
Wal-Mart has also announced a number of other shopping incentives, including layaway on purchases over $15, free shipping on most Walmart.com products, no interest on Wal-Mart credit card purchases if they are paid for in full within six months, and a 10-cent discount on each gallon of gas bought at participating Murphy USA or Wal-Mart stations.
As the holiday shopping season kicks off, retailers will have to fight even harder for sales in the face of continuing economic uncertainty and growing concern among consumers about job stability, according to Matthew Shay, president and CEO of the National Retail Federation (NRF).
According to a recent NRF report, 62.2% of Americans said the economy will impact their holiday spending plans -- and most people said sales or price discounts were the most important factors when making purchases this year.
"We know shoppers are watching every penny this season, so we're sharing our Black Friday specials early this year so they can plan ahead and deliver a wonderful Christmas for their families," Duncan Mac Naughton, chief merchandising officer of Walmart Stores Inc., said in a statement.