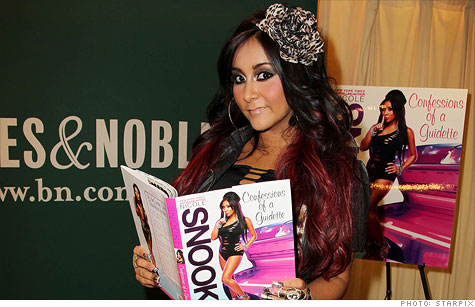 Snooki has used her turn on "Jersey Shore" as a springboard to successful entrepreneurship.
NEW YORK (CNNMoney) -- When most people think of Nicole "Snooki" Polizzi, businesswoman is not the first word that springs to mind.
It's usually not the second or even the third.
But that's exactly what the pint-sized breakout star of MTV's "Jersey Shore" is.
The 23-year-old has capitalized on her screen time by creating a brand that boasts everything from Snooki sunglasses and flip-flops to mobile games and apps.
Two years ago, Polizzi was unknown until she was cast in the reality TV show "Jersey Shore," which followed eight housemates. Her ditsy manner and signature pouf hairdo quickly gained fans. But her fame soared after an episode aired of her getting punched in the face by a guy in a bar.
Now her personal appearances command a reported $20,000. Her product updates, which are sent to her three million Twitter followers and over 700,000 Facebook fans, tend to create retail frenzy. Happy Feet founder Pat Yates, claims his company's server crashed the first time Polizzi tweeted about the new Snooki slippers.
Polizzi's first book, "A Shore Thing," made the New York Times bestseller list this past January. And her second novel, "Gorilla Beach," will hit shelves in May, 2012. She has also released a custom line of Snooki slippers and sunglasses.
This month, as "Jersey Shore" finishes its fourth season, Polizzi is taking her success to the next level with the release of a style guide, "Confessions of a Guidette." She is also launching her new perfume Nov. 10 in a two-hour primetime event on the Home Shopping Network. Her Supre Tan indoor tanning products and a new line of Snooki mobile games and apps will also launch in November.
As she prepares to begin filming her own MTV television spin-off with her best friend Jenni "JWoww" Farley, CNNMoney asked Polizzi to share her advice on building a brand out of 15 minutes of fame.
Make the most of opportunities. I'm very fortunate to be a part of the "Jersey Shore" cast. I originally thought the show might last one season and then I'd go back to school. I often get asked by my fans where they buy the slippers, sunglasses and other fashions I wear on the show. I'm trying to take advantage of what's going on in my career by offering fans some of the products that I love and use myself.
Don't let negativity affect your vision. A lot of people have said harsh things, but I don't let it affect me. If anything it gives me more enthusiasm and pushes me to do better in my career so I can prove them wrong. If some of the haters met me in person, I could turn them around. The "Snooki" that people see on "Jersey Shore" is my party alter ego. My spin-off show is more laid back, and I believe fans will see the whole Polizzi, not just one version of me.
Craft your signature style. All the products in my line are items I wear myself and feature the animal prints, neon and bling that I like to wear. I'm also very involved in the design process. I worked with the shoe retailer, Happy Feet, which manufactures the big, fuzzy slippers that I wear on the show, to create my own Snooki slippers that feature animal prints and neon colors.
For my fragrance with Aladdin Perfume, I helped develop a flirty, cute and sexy scent and design the packaging. It's not enough for me to just put my name on a product.
Use social media to get feedback. I like to connect with fans on Facebook and Twitter and to also meet them in person at my book signings and product launches. My fans often ask me where I get the sunglasses or shoes that I wear on the show. And I'm in the process of launching a shopping website where fans can find all of my products in one place.
Expand your brand. I believe it's important to be true to yourself and your vision. I want my brand to reflect my personal style and to also be affordable for my fans. I'd eventually like to include denim, sportswear, beauty products and to even open a retail store.