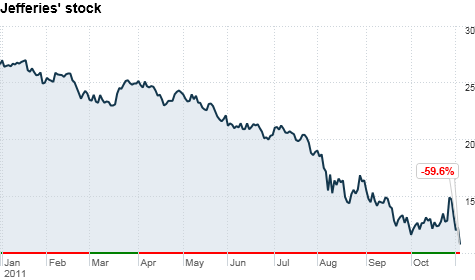 Jefferies shares have come under siege since MF Global's bankruptcy Monday.
NEW YORK (CNNMoney) -- The contagion from the rapid downfall of the once little-known financial firm MF Global continues to spread through Wall Street. The investment bank Jefferies is the latest potential casualty.
Dozens of Jefferies (JEF) hedge fund clients are scrambling to find another investment bank where they can warehouse client's money and execute trades, according to sources in the prime brokerage divisions at three competing banks. These sources said they spent all day Thursday fielding calls from hedge funds who could be potential clients.
An exodus of hedge fund clients that use Jefferies prime brokerage services could hamper the bank's ability to fund itself. However, it was not clear how many clients -- if any -- have left Jefferies (see clarification at bottom of story).
"We have seen insignificant change in our prime brokerage business, and in any event, our prime brokerage business is not in any way part of our firm funding regime," said Richard Khaleel, a spokesperson for Jefferies.
Jefferies has roughly 400 hedge fund clients that use its prime brokerage services to execute trades. It typically takes months, if not years, to win new hedge fund clients.
But two sources said they inked deals with several Jefferies customers Thursday and were in constant conversations all day about signing on other clients. Neither source would provide the names of Jefferies hedge fund customers that have contacted them.
Jefferies' stock fell more than 20% at points Thursday, after ratings agency Egan-Jones downgraded it over its exposure to sovereign debt in Europe. The New York Stock Exchange also briefly halted trading of Jefferies shares because its price plunged more than 10% in a five minute period.
After coming out with statements throughout the week on potential exposure to both MF Global (MFGLQ) and sovereign debt in Europe, the bank took another unusual step by specifically outlining its exposure to sovereign debt in Portugal, Spain, Ireland, Italy and Greece.
Jefferies said it "had no meaningful net exposure" as of August 31, 2011, in a press release Thursday. Its $2.684 billion in long bets were hedged by $2.545 in short positions on European sovereign debt.
The company's statement helped stop some of the bleeding. Shares closed Thursday down just 2.1%. Jefferies stock is down nearly 60% this year.
Hedge funds have been more skittish about where they house clients' funds since the fall of Lehman Brothers in September 2008. During Lehman's bankruptcy, hedge funds working with its prime brokerage unit couldn't access client money for months in some cases. Lehman's demise killed several hedge funds and made operations difficult for others.
Clarification: An earlier version of this story did not make clear that it was not known if clients had taken their business from Jefferies.