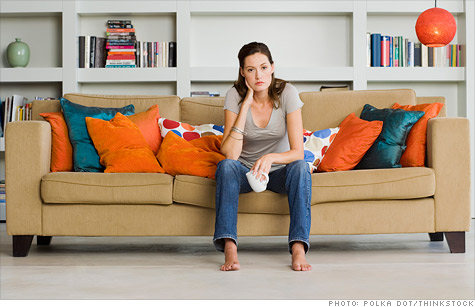 NEW YORK (CNNMoney) -- Sitting on your couch for hours waiting for the cable guy, a kitchen cabinet delivery or Internet technician to show up is not only frustrating, it's a huge waste of money.
Time spent waiting for in-home services and appointments cost American workers $37.7 billion in 2011, according to an IBOPE Zogby poll of more than 1,000 adults conducted on behalf of cloud-computing software company TOA Technologies.
Nearly three-quarters of respondents (72%) perceived the cost of one hour of their time to be worth more than $15 an hour, with the average consumer losing close to $250 last year waiting to show up at their home.
More than half, or 58%, of Americans said they waited for in-home appointments in the past year, for an average of four and a half hours. The average number of times they waited last year was about three.
Tally up all of those hours waiting around for the doorbell to ring and it's the equivalent to every single working American losing two full days of work per year, said Yuval Brisker, CEO of TOA Technologies.
It's a significant hit, especially for lower income Americans. More than a quarter of Americans said they lost wages from waiting for appointments, and 50% said they used a sick day or vacation day, according to the poll.
Who keeps us waiting the longest? It may not come as that big of a surprise but the vast majority of Americans, or 57%, say they spent the most time waiting for the cable guy. Other appointments that kept respondents waiting included Internet service and repair, furniture delivery, computer repair and phone services.
Points for punctuality went to healthcare workers and online grocery store delivery services.
Cable companies and furniture delivery shops should take note: Long wait times are bad for business. About 70% of respondents said they would recommend a company simply because a representative was on time. But only 43% would recommend a company if they have to wait an extra 15 minutes for someone to show up, and the number one reason customers think companies aren't showing up on time is that they "don't care about my time."
The study found that companies lose an average of $330 for each customer who decides to stop doing business with them, based on how much money respondents said they spent with each company per month.