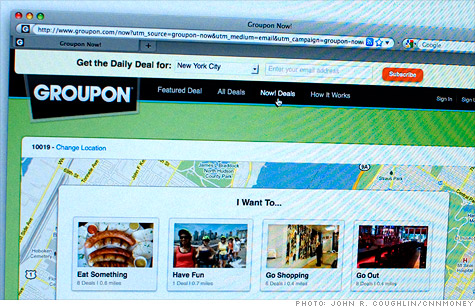 NEW YORK (CNNMoney) -- Groupon is poised to start trading publicly, but the road to an initial public offering for the popular daily deals site has been rocky -- and one that skeptics say is reminiscent of the dot-com bubble.
Groupon is slated to price its IPO late Thursday and begin trading on Friday morning, according to several news reports. It will trade on Nasdaq under the ticker symbol GRPN.
Demand for the stock is expected to be strong, but Groupon has been tarnished by questions surrounding unorthodox accounting measures, revisions of sales figures and scaled-back expectations of how much money Groupon will raise.
"It's a flashback to the late '90s. We've seen this game before and we know how it's going to end," said Tony Catanach, accounting professor at Villanova University.
Groupon's IPO has been controversial since it first filed the paperwork in early June. The company drew a barrage of criticism for its reliance on a nonstandard metric that stripped out Groupon's steep costs for marketing and acquiring new subscribers.
Under pressure from regulators, Groupon re-filed in August to instead use only standard accounting procedures. As a result, the operating profits that Groupon cited in its first filing became operating losses.
Then, in late September, Groupon revised its reported revenue to "correct for an error" -- namely, including in its revenue the cash it has to hand back to merchants for their share of the coupons Groupon sells. That effectively whacked Groupon's sales in half, to $688 million for the first half of 2011 from the $1.5 billion it claimed previously.
"All of these amendments and changes are going to make intelligent investors a little skittish," Catanach said.
Late last month, Groupon dialed back how much it hopes to raise in its IPO by 28% to $540 million. The company is putting 30 million shares up for sale, hoping they'll receive between $16 and $18 apiece. It had originally filed to raise $750 million.
Several other online companies have gone public this year -- and while they've generally done well on their first trading days, longer term performance is mixed.
Professional networking site LinkedIn's (LNKD) shares more than doubled in its May IPO, even though the company turned only slight profits in 2010 and 2006, and has otherwise has been in the red every year since its 2003 inception.
The stock is still trading well above its IPO price of $45, but it is below its first day closing price of $94.25.
In August, LinkedIn announced it turned a profit on its first quarter as a public company. Analysts were expecting a loss. LinkedIn will report its latest earnings on Thursday after the bell, and analysts are once again expecting a loss.
Other tech IPOs did well on their first day but then quickly fizzled. Internet radio service Pandora (P) surged more than 60%within the first few minutes of trading, even though the unprofitable company had warned investors that it expected to continue losing money "through at least fiscal 2012." But shares are now trading below the offering price of $16..
And shares of Demand Media (DMD), an online content creator that faced its own accounting smackdown, closed 33% higher on its first day. But shares are now trading below $8, compared with the offering price of $17.
The performance of Groupon's IPO will give an indication of how willing investors are to buy risky companies. Next up is Zynga. The social gaming company filed in June and is expected to start trading later this month.
Catanach said investors need to be wary of any of Groupon, Zynga or any other new offerings from Internet companies if their stocks surge on the first day.
"In the 90s we saw these [accounting] concerns put to the side," he said. "There were countless people saying this doesn't make sense, but investors still bought. And look what happened."