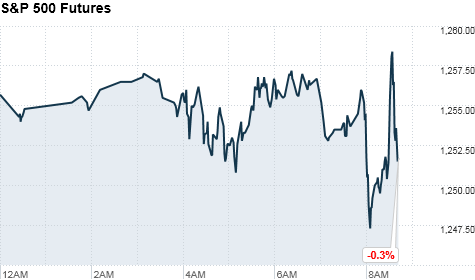 Click on the chart to see additional premarkets data.
NEW YORK (CNNMoney) -- U.S. stocks were headed for a slightly lower open Friday following a disappointing jobs report.
But trading will likely be choppy as investors keep a wary eye on Greece and as the G20 summit wraps up in Cannes, France.
The Dow Jones industrial average (INDU), S&P 500 (SPX) and Nasdaq (COMP) futures were down slightly ahead of the opening bell Friday morning. Stock futures indicate the possible direction of the markets when they open at 9:30 a.m. ET.
Ahead of the opening bell, the government reported that the U.S. economy added 80,000 jobs in October. Economists surveyed by CNNMoney were expecting a gain of 98,000 jobs in October.
Greece has been grabbing headlines as investors fear the nation could default on its debt in a disorganized way, threatening the 17 nation euro currency union.
Greek Prime Minister George Papandreou faces a confidence vote in the Greek Parliament Friday, a day after he backed off plans to hold a referendum on Greece's bailout deal.
The Group of 20 Summit in Cannes, France, officially wraps up Friday. The meeting of European leaders was mostly focused on finding ways to resolve problems in Greece and Europe's debt crisis.
Stocks closed significantly higher Thursday, as investors focused on the European Central Bank's surprise rate cut and mostly shrugged off fears over Greece.
Economy: The U.S. government released its monthly jobs report showing that the unemployment rate dipped to 9% in October, a slightly better read than expected. Analysts surveyed by CNNMoney expect the October unemployment rate to remain unchanged at 9.1%.
The Labor Department said Thursday that weekly jobless claims eased by 9,000 to 397,000 last week.
Productivity of U.S. workers rose 3.1% during the third quarter, after falling 0.7% the prior quarter. Labor costs fell by 2.4%. Both readings were better than expected.
Companies: Before the market open, Jon Corzine resigned as the CEO of bankrupt brokerage firm MF Global. He said he won't seek severance pay.
Daily deals site Groupon priced its initial public offering at $20 a share late Thursday and will begin trading under the ticker symbol GRPN Friday morning. The move values Groupon at $13 billion.
On Thursday, bailed-out insurance firm AIG (AIG, Fortune 500) posted a net loss of $4.1 billion, a loss per share of $2.16 for the third quarter. While analysts hadn't expected the company to post a profit, the size of the loss exceeded expectations.
World markets: European stocks were mixed in mid-day trading. Britain's FTSE 100 (UKX) was up 0.9%, the DAX (DAX) in Germany dipped by 0.3% and France's CAC 40 (CAC40) added 0.3%.
Asian markets ended higher. The Shanghai Composite (SHCOMP) added 0.8%, the Hang Seng (HSI) in Hong Kong jumped 3.1% and Japan's Nikkei (N225) added 1.9%.
Currencies and commodities: The dollar rose against the British pound, dipped against the euro and was flat versus the Japanese yen.
Oil for December delivery rose 38 cents to $94.45 a barrel.
Gold futures for December delivery fell $1.60 to $1,763.50 an ounce.
Bonds: The price on the benchmark 10-year U.S. Treasury dipped, pushing the yield to 2.10%.